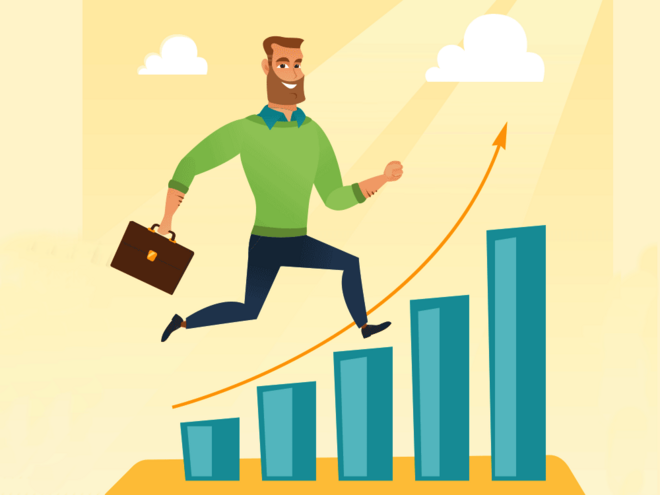 Taking cue from the current trends in the stock market assets under management of mid-cap funds have grown by 272.05 per cent in the past five years, 116.63 per cent in the past three years and 50.96 per cent in the past one year. Till November 2017 total assets under management for mid-cap funds stands at Rs 1,15,101 crore.
The growth in asset size however does not reflect returns. While a very few were able to beat the indices during the one year period, the list grew longer as the time frame was expanded. The sharp rise in mid-cap stock valuations and inflows in midcap funds may have pushed the category assets well past the Rs 1 lakh crore mark.
Investors who made a lumpsum investment in midcap funds a year ago are sitting on gains in the range of 20 to 50 per cent. However, many of these mid-cap funds have failed to beat respective benchmark returns in this one year period which could mean that it is getting more difficult for mid-cap funds to outperform benchmarks, shows a Value Research analysis. The possibility of beating respective benchmark indices over a longer time span of three to five years is much higher. So, in order to be successful with mid-caps it is mandatory to stay invested for a longer time.
Insight into mid-caps
A mid-cap fund is a type of equity/stock fund that invests in mid-sized companies. Market capitalization is the benchmark for deciding large-cap, mid-cap and small-cap stocks. To give you a broader perspective-- market capitalization is the number of shares multiplied by current stock price.
When we consider marketcap size in the descending order, the first 100 companies constitute large-cap, the next 101st to 250th constitute mid-caps, while from 251st company onwards are taken as small cap.
Usually, mid-cap funds buy large chunks of mid-cap as well as small-cap stocks. The argument for buying shares of mid-sized companies is simple: faster earnings growth is expected to translate into faster rise in share prices.
Value Research conducted a study of mid-cap funds for three different time periods: one year, three years and five years. We tried to find out how funds are doing vis-a-vis their stated benchmark. Different funds choose different benchmarks. The most common mid-cap fund benchmarks include Nifty Free Float Midcap 100 Index, S&P BSE 200 Index, S&P BSE 500 Index, S&P BSE Mid Cap Index, Nifty 200 Index, S&P BSE 100 Index and Nifty 500 Index. The study looked at lumpsum fund investment performance for a time frame ending on 29th November 2017.
For a year only
During the past one year less than half of the total basket, 29 out of 64 mid-cap funds beat their benchmarks. However, there are others that beat indices by 10 percentage points or more. These include IDFC Sterling Equity Fund, Aditya Birla Sun Life Pure Value Fund, ICICI Prudential Dividend Yield Equity Fund and Edelweiss Economic Resurgence Fund. So, it turns out that 45 per cent of mid-cap, which are regular plans have delivered alpha (the excess return over benchmark). Only time will tell whether the star performers continue on their growth track in the future.
Around 55 per cent of them which comes to 35 funds failed to beat their benchmark returns. To put it in a crux, every second mid-cap fund was a lame duck. The schemes that lagged their benchmark by more than 10 per centage points include SBI Magnum Midcap Fund, Sundaram Select Small Cap Series II, III, and IV, Motilal Oswal MOSt Focused Midcap 30 Fund, SBI Magnum Global Fund and Canara Robeco India Opportunities Fund.
A large number of mid-caps failing to beat benchmarks could be a sign that mid-cap stocks are getting researched and discovered at a much earlier stage. Some fund managers say that it is getting more difficult for mid-cap funds to outperform benchmarks.
The choice of benchmark could also be a reason for a fund being a laggard. For instance, the SBI Magnum Midcap Fund's benchmark is Nifty Mid Small Cap 400 that has gained 44.91 per cent versus the fund's less than 25 per cent rise. Concentrated bets like Motilal Oswal MOSt Focused Midcap 30 Fund show that in a span of one year such schemes may not always deliver benchmark-beating returns.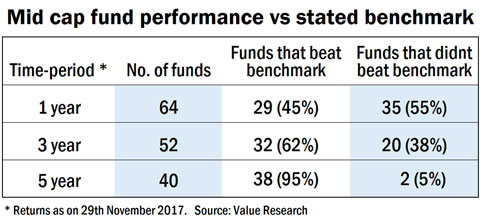 The longer, the better
The performance of mid-caps is more impressive when we consider a longer time period like three and five years. When investors stay put with their investments they can enjoy better chances of alpha generation of the funds.
The three year story
As a result the strike rate improves over time. During the three year period 38 per cent or one out of three funds have failed to beat their stated benchmark. As a corollary it can be said that 62 per cent have out-smarted their benchmark. We studied the performance of 52 funds over a three year time period and we found that Escorts High Yield Equity Fund, Escorts Leading Sectors Fund and Aditya Birla Sun Life Pure Value Fund beat their benchmark by 10 per cent or more during this time.
The set of nine funds that beat their benchmarks by 5 per cent or more in the three year period returns (CAGR) include L&T India Value Fund, Escorts Growth Fund, Franklin India Prima Fund, ICICI Prudential Dividend Yield Equity Fund, Reliance Growth Fund and Mirae Asset Emerging Bluechip Fund. To put in a nutshell, 32 mid-cap funds did better than benchmarks while 20 of them failed.
The laggards in the three year time frame include Baroda Pioneer Midcap Fund, Axis Midcap Fund and DHFL Pramerica Midcap Opportunities Fund. These three mid-cap schemes missed benchmark performance by 5 to 15 per cent.
The five year story
Next we picked up 40 mid-cap schemes and examined their performance for a five year time frame. The outcome was overwhelming as 38 out of the 40 mid-cap funds overtook their stated benchmarks' return in this period. This is a neat 95 per cent strike rate. The top performers who beat their benchmarks by the widest margins are Aditya Birla Sun Life Pure Value Fund, L&T India Value Fund, Mirae Asset Emerging Bluechip Fund - Regular Plan and Franklin India Prima Fund.
The two funds which failed to beat benchmarks during the five year period are Baroda Pioneer Midcap Fund and Aditya Birla Sun Life Dividend Yield Plus Fund. While Baroda Pioneer Midcap Fund missed benchmark returns by a whopping 12.7 per cent, Aditya Birla Sun Life Dividend Yield Plus Fund missed the mark by a bare 0.55 per cent.