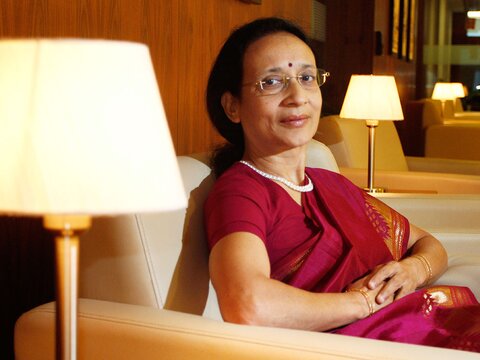 Public-sector AMCs have had a tough time staying in the race with their nimbler and more aggressive private-sector rivals over the last decade. But SBI Mutual Fund has proved to be an exception to this rule. Not only has it broken into the ranks of the top five fund houses in India, it has also expanded faster than most leading private-sector AMCs in the last five years.
We decided to chat with Ms. Anuradha Rao, its recently anointed CEO and managing director (she took over exactly a year ago) to find out what makes SBI Mutual Fund tick. I find that Anuradha is just packing her bags for a trip abroad. But she agrees to spare an hour over the phone the evening before her trip.
Conservative clients
What explains the sudden rise in the popularity of SBI Mutual Fund now, given that the AMC been around since 1986, is my first question.
Anuradha thinks that focusing on retail investors as its bread and butter has delivered this growth. "Until three years ago, SBI Mutual Fund was largely an institutions-focused AMC. Our cash and ultra-short-term funds were growing faster than our equity funds. In the last three years, our equity AUM has grown nearly fourfold, driven by good performance from our funds as well a conscious retail push on SIPs. In June 2014, our total AUM was about Rs 70,000 crore. In June 2017, it was Rs 1,68,000 crore, with nearly Rs 82,000 crore from equities, including equity ETFs."
SBI, the bank, has a formidable retail reach, with branches in every nook and corner. How come SBI Mutual Fund was so late to hop on to the retail bus, I ask. Other private bank-sponsored AMCs such as HDFC and Axis have grown their SIP books and AUM much faster.
"You see, the biggest customer base for State Bank of India is retirees and conservative savers who do not have a high-risk appetite. They are looking for fixed returns from their investments. The branches, therefore, were very conscious of not selling them any products that carried market risks. If a saver lost money due to market risks, that would reflect poorly on the branch. Plus, traditionally, cross-selling of products is not a part of the culture at public-sector banks," explains Anuradha.
In the last three to four years, falling interest rates on bank deposits have also impelled savers to actively hunt for better alternatives, even if it means taking on a little more risk. SBI Mutual Fund has forged new bank tie-ups and leveraged on the SBI network to sell its products. But it has focused only on schemes suited to conservative investors, she explains.
"We have got good response to two of our key products from SBI customers. One, we have been able to position our dual advantage funds (DAFs) as an alternative to the FD investor who can take on a little bit of additional risk. Our DAFs also have a demonstrated track record. Recent ones that have matured have delivered a 9 per cent plus pre-tax return. Two, SIPs in our equity funds such as SBI Blue Chip Fund have caught on with retail investors, too."
SBI Mutual Fund markets three-year, closed-end funds that invest in an 85-15 mix of debt and equity under the category of dual advantage funds. This effort has been supported by the creation and use of digital tools specific to the SBI platform.
Regular income
Why is SBI Mutual Fund running a campaign promoting systematic withdrawal plans (SWPs)? SWPs help investors take money out of the fund, and what AMC likes to lose assets?
Anuradha says that this campaign was again driven by the special needs of SBI Mutual Fund investors. "We wondered what the best way to meet the regular income needs of our customer base was. We found that if we recommended MIPs or balanced funds to these investors, the dividend options didn't really meet their need for predictability. The dividends fluctuated quite a lot based on market conditions and this method wasn't tax efficient. With an SWP, the investor can set up a completely predictable income stream that is tax efficient, too. When investors come to us, we set up the SWP in such a way that the withdrawals each month are slightly lower than the returns earned by the fund. This buffer makes up for any shortfall in the years when market returns fall."
It is good to see an AMC that understands the needs of the risk-averse. So what does Anuradha think of the flood of money into equity funds just now? Today, the mutual fund industry is celebrating because the SIP book is nearly Rs 5,000 crore a month. But inflows to equity mutual funds always pick up when past returns are looking good. So is there a possibility of SIP flows also drying up if there's a correction? Anuradha thinks not. She believes that Indian investors have really matured this time around. "I think one message that has really gone out to retail investors is that equity investing is for the long term. People are now quite conscious that if they're investing in an equity fund, they will have to stay on through a complete market cycle, not just a certain number of years. We also see a trend of people stretching the tenure of their SIPs. We don't see too many one-year SIPs today; people sign on for five, 10 or 15 years. In fact, there are advisors in the market who only take on investors who are willing to do a 15-year SIP."
Anuradha thinks that goal-based investing also prevents people from reacting in a knee-jerk fashion to market events. "If you're investing towards your daughter's college degree 10 years from now, you will not easily stop that investment. You know that if you stop it, you still have to do something else to meet that commitment. So I do believe that this time is different."
The problem with goals
The point on goal-based investing makes me ask a question that has long made me curious. How easy is it to convince an investor in her twenties to think about retirement, which is light years away?
I make this comment fully expecting a lecture about 'starting early' and 'benefits of compounding', but Anuradha surprises me by agreeing heartily.
"Exactly! What you said is so true. Most of us delay making a proper financial plan because when we are in our twenties, it is very difficult to think of retirement and to postpone our current spending for it. When you look at the corpus you need, it looks very daunting.
It is much easier to save towards a more tangible near-term goal, like buying a car or taking a vacation. You see, when you save, it requires some sacrifice on spending. You need periodic gratification to keep you going. If you are asked to wait for 20 or 30 years to reap the rewards of your savings, you are not going to do it at all!" she says.
So what is the solution, given that you don't want to be out on the road at retirement, I ask.
Perpetual SIP
"I think the best thing one could do as soon as one begins working is to start a perpetual SIP. Don't begin your savings with any purpose in mind. Set aside a part of your salary every month without assigning it to any specific long-term goal. When a need crops up, you can draw on the sum you have accumulated through the SIP to meet that need. The first SIP can be in an ELSS fund which helps you get the tax benefit at the end of the year.
Regular SIP investments not only inculcate the saving habit, they also expand your borrowing capacity. Suppose I am a typical middle-class salary earner in Mumbai in my thirties. I want to buy a flat because my rents are shooting up every year. Now, I may have a budget of Rs 1.25 crore for the flat. For the bank to lend the rest, I will have to put up Rs 25 lakh as down payment. Typically, what I will do is clean out all my savings, liquidate my FDs, borrow from friends and relatives to somehow scrounge up that Rs 25 lakh. But I find that the Rs 1.25 crore gets me a little 2 BHK cubby hole in a far-off suburb. The cost of commuting from that location to my workplace or my wife's is quite high. But because I can only afford Rs 25 lakh as down payment, I end up buying that home and being dissatisfied with it. Now, imagine if I had an SIP running from my twenties where I had already saved up Rs 25 or Rs 30 lakh. That could make a big difference to my affordability. I may be able to stretch my budget to Rs 1.5 crore and buy a flat in a locality that I like. An SIP can help you meet your smaller goals, too. Say, buying a car in your twenties, taking a trip abroad. A perpetual SIP serves this need well."
This does seem to be a pragmatic way to approach financial planning. Often, the huge nine-digit numbers that online retirement calculators throw up put young people completely off from savings.
Her money
So, where does Anuradha invest her personal money? Does she have many of those perpetual SIPs running?
Very confident so far, she turns a little apologetic at this question. "I wish someone had sat me down and talked to me about financial planning and the savings habit when I was younger, as I am doing to you now. I am afraid I have been a late starter on my own financial planning and SIPs," she says.
So where did she invest in her younger days? "As a bank employee, I invested in real estate. I own my home and also own a plot of land. Both of them are located in my home town of Hyderabad. To an extent, purchasing property does make economic sense as a bank employee because you have access to credit at very reasonable rates. But I have realised that when you need liquidity, property investments are of little utility. I have been trying to sell the plot of land. But whenever one initiates the process, one is told that the market is down and that one should wait for a better time to sell it. Therefore, we haven't been able to actually realise value from it. If I should have wanted the money to fund, say, my daughter's medical degree, I don't know what I would have done." Her daughter is now well-settled in her career and has thankfully not chosen medicine.
Well, that's an experience many of us who own plots or property can really empathise with. Their value is mostly on paper.
Anuradha continues, "On retirement, the good thing is that I will be receiving a pension from my employer. That, in fact, has led to some complacency about retirement planning. But I have set up SIPs in SBI funds in recent years and have been contributing regularly to them."
Quite intrigued by the conversation, I ask Anuradha whether she has worked at SBI all her life and how it has been staying with one organisation. She replies that this is a question only young people of today would ask (not realising that I am far from young).
"I and most of my colleagues at the bank of similar age have been career SBI staffers. I would count myself lucky for this long stint at SBI because this organisation allows you to get really diverse exposure that you wouldn't get elsewhere. I had the privilege of heading SBI's home-loan portfolio for three years when the bank was making an aggressive push into this space. I also did a stint heading SBI's personal banking. In each of these roles, I worked to establish SBI as a dominant player, working on product structure, process, managing sales teams and customer experience. As deputy managing director, I got the chance last year to be posted at any of SBI's subsidiaries and I was lucky to land this posting at SBI Mutual Fund. I think what I bring to the AMC is a unique insight into how retail saver thinks and how to structure products to best meet her needs."
So does Anuradha find her stint in the mutual fund industry very different from the one at the bank? "Absolutely, I find this to be a very self-absorbed industry, being B2B-oriented. In retail banking, we would be constantly looking at what competitors are doing. Here it is more inward looking. I would certainly like to simplify the messaging we have for investors, as I find all the jargon that we use quite unintelligible to any layperson."
I crack a joke about duration calls, credit calls, yield curves and other debt jargon and we share a good laugh. I ask a couple of macro questions about interest rates and inflation. But Anuradha politely says that SBI MF's Chief Investment Officer would be the better person to answer them.
Given that she is such a bundle of energy, what does she do in her spare time? "I am a movie buff. I am very particular about watching every movie that has ever been nominated for the Oscars. I don't mind what category it was nominated for. I like to watch the film and figure out what made it click. I also love watching popular Bollywood, Tollywood and Kollywood movies."
What about her reading? "I love murder mysteries," comes the prompt answer. Does she like golden oldies like Agatha Christie or dark new Nordic thrillers?
The mention of Agatha Christie fires up her enthusiasm. "You see, I can read the first few pages of any Agatha Christie book and tell you who the likely murderer is. I have realised that she has a certain way of characterising people that gives you clues about who the murderer could be. It also helps that all Agatha Christie murders happen only in closed groups. I found that I got good at second-guessing the murderer after reading 20 or 25 of her books," she says quite gleefully.
With a quick learner like her at the helm, I can see why SBI Mutual Fund has cracked the code to become so popular with investors lately.
I've enjoyed the chat so much that I'm reluctant to wrap up the call. But I remember her flight the next day and bid goodbye, with promises to meet up in person soon.