Most equity investors would not like to miss out on the high return potential of mid- and small-cap investing. But the problem with investing in this space is the high risk that comes with it. It is hard to know when to increase your mid-cap allocation and when to reduce it, as also to choose the right mid-cap stocks to create long-term wealth. Multi-cap equity funds allow you to leave the mid- and small-cap allocation in the portfolio to a professional fund manager, instead of taking it on yourself.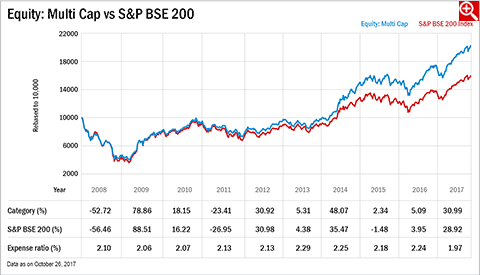 With fund managers making dynamic shifts between large-, mid- and small-cap stocks, the category has delivered an average return of 10 per cent over 10 years, 18.03 per cent over five years and 14.91 per cent over three years on a trailing basis. SIP returns over three years beat the trailing return, at 17.49 per cent, and lag the trailing returns for five years, at 18.69 per cent. Outperformance from the mid- and small-cap segments in the last five years has helped widen the return gap between multi-cap and large-cap funds.
With high returns lifting the popularity of the category, the assets managed have shot up to ₹1.54 lakh crore as of September 30, 2017, distributed across 70 funds. However, a look into the portfolios of multi-cap funds shows that even if investors are quite bullish, fund managers in this category have turned more cautious. The allocations to large-cap stocks within multi-cap funds is on the rise while the allocation to mid- and small-caps stocks has been coming down sharply over the last one year.
We recommend the following multi-cap funds:
Aditya Birla Sun Life Equity
DSP BlackRock Opportunities
Franklin India High Growth Companies
Franklin India Prima Plus
ICICI Prudential Value Discovery
Kotak Select Focus
Motilal Oswal MOST Focused Multicap 35
SBI Magnum Multicap