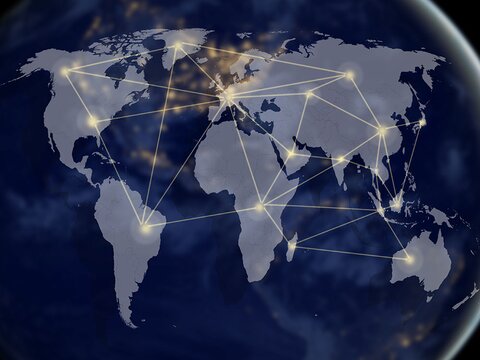 After a quiet three-year period between 2014 and 2016, it looks like emerging market funds focusing on Asia has made a slow but sure restart. In fact, in the year to date period, Indian investors who had bet big on Asian funds have garnered 20-30% returns. Coming after years of sluggish gains, Asia-focused EM funds have benefited positive earnings revisions led by favourable region-specific as well as global factors. Let's do a deep-dive.
2017: A good year
International equity funds, in general, haven't exactly done justice to the hype that has surrounded this theme. While Asian equity funds haven't made large losses like the ones betting on overseas mining & metals, commodities, and country-specific Brazil funds have, for the past few years returns in this sub-category have been staid.
While 2015 was a bad year for this niche category, 2016 saw some improvement. But still, only 2 out of 8 funds clocked double-digit returns and that too below 15%.
See how some emerging market funds fared in the last three years
In 2017 year to date, the script has changed. In fact, Asian funds are in top quartile of international funds charts. Edelweiss Greater China Equity Off-shore Fund has gained 32% -- a full 12% more than the Sensex's 20% YTD.
Tencent, Alibaba, AIA Group, Samsung, Taiwan Semiconductor, HSBC, CNOOC, PetroChina, ICBC and Geely Auto are among popular Asian holdings in EM equity funds. Many funds are also feeder in nature, and the assets are invested in another main global fund.
What changed in 2017
Roshi Jain, Vice-President and Portfolio Manager - Franklin Equity, Franklin Templeton Investments - India says: 'Better-than-expected economic data from China and continued flows into the emerging market (EM) asset class were amongst the key drivers of performance. The growth and re-rating of Chinese e-commerce and internet companies, robust earnings growth in technology hardware sector in S. Korea and financial services sector in India were primary contributors to the performance over the past year.'
Overall, strength in financial services, telecommunication and information technology sectors contributed to the performance for some Asian funds.
Jain said that for her fund superior stock selection contributed to portfolio gains in China, South Korea and India whereas rest of the gains accrued from prudent allocation to Malaysia and Singapore markets. 'While the portfolio construct has largely remained steady over the year, the recent price re-rating of these long-term holdings in the portfolio further reiterates our focus on the quality of business and long-term fundamental strength of the stocks,' she notes.
Deepak R. Gupta, Fund Manager - Kotak Global Emerging Market Fund feels the global risk-on rally has helped performance.
'The MSCI Emerging Market Index itself gave negative returns during 2014 and 2015 in INR terms. In 2016, the index gave nominal positive returns but the fund underperformed to some extent. In 2017, almost all the emerging markets have given positive returns as there has been a global risk rally and hence, even our fund has given positive returns,' Gupta points out.
Here is a list of top international equity funds in 2017 across all themes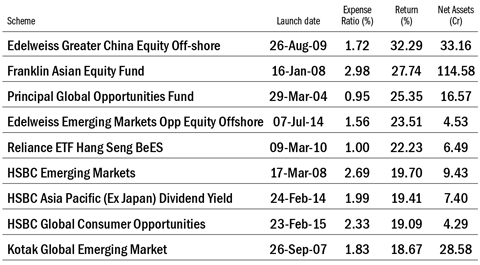 Outlook matters
Asia is quite a big landscape. It has many emerging markets nestled across this large body of land. While 2017 has shown some returns, new and old investors know that gains can evaporate quickly too. This is where fund manager outlooks matter and can help.
Roshi Jain of Franklin believes that compelling opportunities remain abundant across emerging markets, including Asia. 'Emerging markets represent nearly half of the world's GDP measured in nominal terms, and account for nearly 0% of global GDP growth. Further, GDP growth in emerging Asia is expected to substantially outpace that of developed markets, at 6.5% versus 2.0%, in 2017. Growth in consumer spending remains one of the dominant themes for our portfolio,' Jain shares.
Middle-class consumers are not only demanding goods but also, increasingly, services such as banks, healthcare and leisure opportunities, including entertainment and travel. The rise in the services sector in Asia is consistent with what many have seen across developed markets as income rises.
Fund managers are positioning their portfolios towards service-oriented companies.
'The dominance of China in the Asian region makes it difficult to ignore the growth concerns surrounding the Chinese economy which in turn could have short-term implications on global market sentiments. That said, we are still in the early stages of the earnings growth upturn and we consider valuations and sentiment to be conducive to further gains in equities in emerging Asia,' avers Jain.
Kotak's Gupta feels that in many of the markets globally there is paucity of alternate investment avenues and as a result, money is flowing into equities. 'We believe that in such liquidity driven markets, the best strategy is to invest systematically and keep some ammunition dry so that when the markets correct, one can invest in chunks too,' Gupta says, striking a cautious tone.
Currency risks
Because international equity funds invest in overseas assets, currency remains a major factor. This is because the value of assets can show a drop if currency exchange rate moves unfavourably. Volatility in currency movement may form a part of the broader strategic factor framework considered for stock selection.
Gupta says that investors must understand the important role currency plays in overseas equity funds.
The returns in a year could be stellar if INR does not appreciate steeply. For instance, if appreciation in INR for a calendar year is more than 6%, this means the returns of overseas funds for that calendar year were 6 odd percent lower in INR terms as compared to their dollar returns. 'So, it is pertinent that the investor not only forms a view on global equity markets but also on the currency before investing in overseas equity funds,' says Gupta.