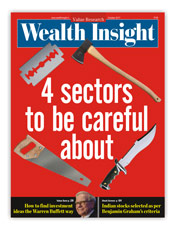 It's exciting to read about what we should invest in but boring to read about what we should NOT invest in. And yet, avoiding disasters is at least as important as finding winners. Read the negative, but very useful cover story: 4 Sectors To Be Careful About, in the October 2017 issue of Wealth Insight and steer clear of problem stocks.
Of course, there's a lot more for you in this issue that will help you make more profitable investments
Interview: Read our interview with Raghuram Rajan on the Indian economy and the state of banking.
First Page: Dhirendra Kumar: The most important thing that the equity markets do is to perform the miracle of converting income into capital
Interview: 'Have a good investment philosophy and follow it,' explains Prashant Kothari, Senior Investment Manager, Pictet Asset Management
Value Guru: In our series on learnings from the great gurus of Value Investing, learn about finding investment ideas the Warren Buffett way
Vis-a-vis: Here is how Dr Lal Pathlabs and Thyrocare Technologies, two leading health services companies, stand with respect to each other
Straight Talk: Anand Tandon worries that while the new Bankruptcy Code promises to expedite bankruptcy cases, legal complications could prove to be an impediment
Main Street: Saurabh Mukherjea writes about India's 'Lethargic large caps'. Since a fast-changing India will see many of its established businesses disrupted by smaller companies, returns from large caps are likely to be low
Offbeat: Sanjeev Pandiya: Human happiness is a much more complicated subject than what economics believes it to be
Generally Speaking: Vivek Kaul shows how so many self-evident truths in economics turn out to be false when they are tested against data
Stock Screen: Read about these investment ideas that you can use now:/li>

Quality stocks available cheap
Attractive blue chips
High dividend-yield stocks
Discount to book value
Reasonably priced growth stocks
Benjamin Graham stocks

Stock Analyst's Choice: Our regular scorecard of the stocks we've recommended since 2011 and their performance.
Click here to subscribe to the printed version, or buy a digital subscription (PDF+online reader) instantly. You can also buy a digital copy of this issue without subscribing.