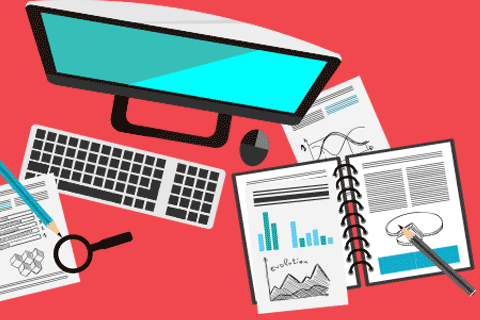 Nirmal Kumar is a 50-year-old public-sector employee. He is married and has two children: a daughter of 17 and a son of 14. His wife works with a private company. He wants us to prepare a plan for his children's education and his own retirement.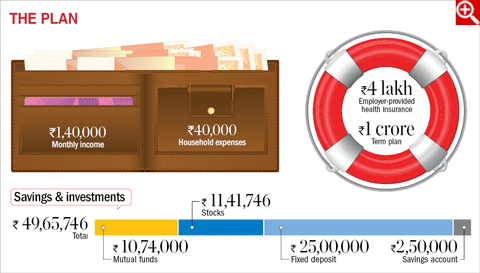 Emergency fund
Nirmal should earmark an amount equal to six months' expenses (Rs 2.4 lakh) for emergencies. This money should be kept in a combination of cash, savings bank account with the sweep-in facility and ultra-short-term debt funds. This will help him earn decent returns while maintaining high liquidity.
Health insurance
Nirmal has employer-provided health insurance, but since it will end when he retires, buying a health plan now will be cost effective. Hence, he should buy an additional family-floater cover of Rs 5 lakh. He must also check the exclusions in the employer-provided health cover to provide for any extra expenses that might arise. Apollo Munich Optima Restore is a suitable policy. It is competitively priced and has a shorter waiting period. The annual premium will range from Rs 15,000-17,000.
Life insurance
Nirmal's wife and children are financially dependent on him. He must buy a term-insurance plan which can cover all his liabilities, meet household expenses of his family and secure his children's future. A term plan worth Rs 2 crore can be considered. Max Life Online Term plan plus or Aegon iTerm Plan are good options. For his age, assuming he is a non-smoker, the annual premium will be around Rs 23,000-25,000. These plans have good ratings and the premium is on the lower side.
A road map to goals
For his daughter's education, he will need the money in the next two-five years. Given the time remaining for this goal, he needs to invest in one or two short-term funds. He can shift the fixed-deposit amount of Rs 15 lakh to the recommended short-term funds for this purpose.
The remaining Rs 10 lakh in the fixed deposit can be allocated for his son's education. For the remaining amount needed for his son's education, he can invest in two balanced funds. Since balanced funds have a debt component, they are ideal for medium-term goals.
Nirmal has 11 funds and 22 stocks. It's enough to have four-five good funds. Too many funds are likely to have much overlap and will not provide more diversification.
Also, managing too many funds requires a lot of time. Nirmal can retain the funds mentioned on the adjacent page and sell the rest. He can stay invested in quality stocks if he understands how to pick them. Otherwise, he should simply stick to mutual funds.
He can replace his SBI Bluechip Fund with SBI Magnum Multicap Fund as the latter is likely to provide him exposure to stocks of all sizes.
He should retain his tax-saving funds to the tune of 80C deductions over and above his EPF contribution, which is around Rs 1.3 lakh. So all he needs is Rs 20,000 to be invested in ELSS. Thus one ELSS is enough for him. He can redeem units of either of his ELSS funds on the completion of three years. All his monthly savings should be invested in the recommended funds through SIPs. This will serve as his retirement corpus.
Withdrawal plan
Nirmal should switch to a debt fund one-three years prior to achieving his long-term goals (son's education and his own retirement). This is important because any market downturn at the time of goal realisation can result in a significantly diminished corpus.