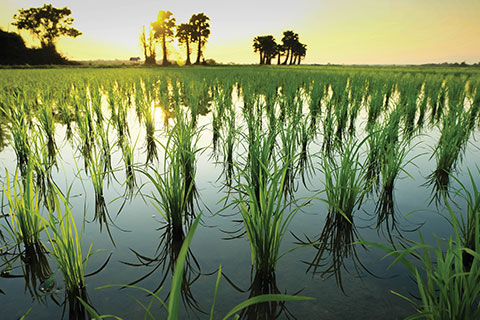 The typical Indian equity investor has always treated agriculture like an embarrassing family member who must not be talked about. Sure, we keep a watch on monsoon data so that we can annually make some wise statements about whether more motorcycles or soaps are being sold in rural India. However, as far as a perspective on sustained growth in agricultural goes, and its impact on equity investments, it's almost never discussed.
Like so many things about India, this should change now. Last year, in February 2016, while addressing a farm rally, the prime minister said that it was his dream that the government would work towards doubling of farmers' income within five years. This would be cause for revolutionary change not only across rural India but for every business in the country.
But is this goal realistic? Or should one take it as just one of those things that political leaders say in rallies and are then forgotten. With the Jan Dhan scheme and demonetisation under his belt, one thing is certain: if there's something that is supposed to happen in the Modi government, serious attempts will be made to get it done.
Last month, I was at a conference organised by Birla Sun Life Mutual Fund, where a number of highly original thinkers from a variety of economy and investment-related fields spoke. Among them was the noted agricultural economist Ashok Gulati. Gulati is professor at the Indian Council for Research on International Economic Relations (ICRIER). He is also part of the agriculture task force set up under the NITI Aayog. If there's anyone who has a perspective on whether this kind of a growth in rural incomes can take place, then it's Ashok Gulati.
Gulati pointed out that the government has stated unequivocally that this doubling refers to real (inflation-adjusted) income. This is a real growth rate of 14 per cent per annum. Gulati repeatedly referred to this target as a 'challenging' and 'uphill' task. Farmers' income is not like the income of urban businesses or salary earners. It is composed of agricultural income (sale of agricultural produce), wages from working on others' farms, and non-farming business income. Of these, the first two add up to more than 70 per cent of the total. The real growth in these has been dismal. There have been ups and downs, but the real growth number has been in the region of 2-5 per cent.
On the face of it, does this means that the 14 per cent growth of the prime minister's dream will stay a dream? As a counterpoint to this dismal average, Gulati told us the story of Madhya Pradesh's agricultural growth. Over the last decade, Madhya Pradesh has sustained a real growth rate of 9.6 per cent per annum. Over the last five years, this has risen to 14.5 per cent! That's unprecedented in Indian history. As he put it, this is another Punjab in the making.
Some people, Gulati said, were sceptical of Madhya Pradesh's data. However, this is very well corroborated by data from other sources, for example, tractor sales. A decade ago, in 2007-08, total tractor sales in MP were 22,000 a year. Last year, they were 87,000 a year. This data represents something real underlying the numbers.
The details of Madhya Pradesh's story are too long to recount here, but the point is that the dream of high growth in agricultural income can come true and the downstream impact on businesses that you and I invest in can be huge.
The transition to a modern, prosperous country cannot be made while leaving farm income behind. For too long, the farmer has received little except lip service. A change here can revolutionise everything about India.