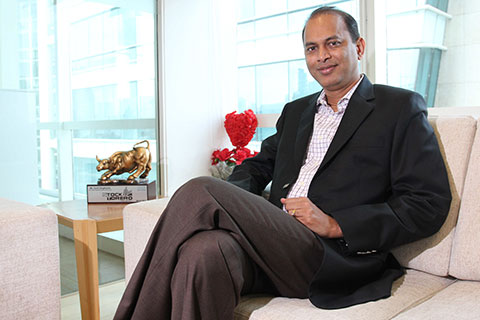 Sunil Singhania, fund manager, Reliance Small Cap Fund, talks to us about the fund.
What is your investment universe?
As per the investment mandate the fund will invest at least 65% of the portfolio in small cap stocks and the balance in mid & large caps based on prevailing valuations. The fund will invest in small cap stocks whose market capitalization is in between the highest & lowest market capitalization of companies on S&P BSE Small Cap Index at the time of investment.
What are the essential attributes for the stocks to be in your portfolio?
The key attributes for stock selection are:
1. Good quality management
2. Reasonable valuations
3. Growth potential
4. Business Scalability and Sustainability
What kind of stocks never enters your portfolio?
We avoid companies with fractured balance sheets, poor quality managements, high valuations without strong fundamentals, low growth visibility, etc.
What will you attribute the relatively superior performance of your fund to in recent years?
The superior performance of our mid and small cap funds can be attributed to our internal research capabilities. We have one of the largest equity fund management & research teams in the industry and track over 200 companies in house. Given the unique characteristics of the Small cap space like low coverage, lower transparency, large universe, etc. in house research capabilities is a clear differentiator.
In line with our investment philosophy of long term wealth creation, we invest in 'Businesses' & not prices and are empowered by the strong internal research capabilities to invest in differentiated ideas which can deliver over the long run.
We maintain a well-diversified portfolio across stocks and sectors. Investments in single stock usually does not exceed 4% - 5% at the time of investment and not more than 20% of the portfolio is allocated to a single sector. Further given the unique characteristics of small cap investments, we are not averse to actively using cash in times of extreme valuations or lack of adequate investment opportunities. However, this cash position will be always within the maximum limits specified in the Scheme Information Document.
All these measures have helped the fund to outperform over the long run.
Is there any tactical miss you regret (for instance, not owning a stock or not owning enough of it)
Often markets misprice, we avoid chasing stocks only because the prices are rising. As explained previously our focus is on identifying Businesses that can grow significantly over the medium to long term. The attempt is to register consistent top quartile performance and superior risk adjusted returns across market cycles.