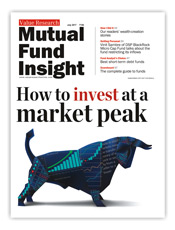 We would all love it if the headline of the new issue of Mutual Fund Insight was wrong. How to invest at a market peak is what we are saying, and the best case would be if the market peak is a long way off. However, as the saying goes, we must hope for the best and be prepared for the worst.
Read the July 2017 Issue of Mutual Fund Insight, 'How to invest at a market peak' to understand how you must approach investing when the market may be at its peak. Moreover, we have a special offer that's just for today: special discounts of up to 54% for subscriptions starting with this issue.
Obviously, that's not all we have for you in this issue.
First Page: Dhirendra Kumar explains how the scale of inflows into equities has changed and how this will impact your investments.
Interview: 'Large-cap valuations still not very expensive,' says Pradeep Gokhale, Fund Manager, Tata Mutual Fund
Getting personal: Vinit Sambre, Fund Manager, DSP BlackRock Mutual Fund
Category Watch: Bank deposit rates are collapsing, and investors should look short-term debt funds anew. Our category watch tells you everything you need to know about these funds.
Fund Analyst Choice: Six short-term debt funds that our analysts have selected for you
Top-Rated Funds: Funds that are rated five star by us
The Plan: Nirmal Kumar, a 50-years old PSU employee, has started planning late for his financial goals. Fortunately, he will be able to achieve them thanks to his accumulated corpus. Study the financial plan that our analysts have created for him.
Ask Value Research: Our team answers savings and investment queries from readers
Fund Radar: Our news and notes about happenings in the world of mutual funds
Fund Reporter: Our digest of the month's most useful mutual fund news
How I Did It: In our series of real life investment stories of our readers, we narrate the habits of highly effective investors: Vinod Aggarwal, a retired Army officer, has created a highly innovative investment methodology and succeeded with it.
And the point is..: Vivek Kaul shares his excitement about how the implementation of the Real Estate Act will lead to the creation of new, high quality economic data about housing
Direct Advice: Aarati Krishnan explains that AMCs should do more to warn investors that valuations are overstretched and investors are in a high risk zone.
Value Research Online: Your Ready-Made Fund Menu: Use the 'Top Rated Funds' section on the home page of the Value Research website to get lists of the best funds to invest in
Scoreboard: India's most comprehensive mutual fund scorecard. Key performance numbers and investment details for each fund
The issue is now on news stands. You can also subscribe to the printed version, or buy a digital subscription (PDF + online reader) instantly. You can also buy a digital copy of this issue without subscribing.