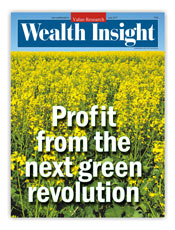 As city-dwellers, none of us have paid any attention to one of the government's most interesting initiatives--the drive to double farmers' real income in the next few years. Whether the target is fully achieved or not, it's certain that this push will make winners out of some stocks.
Read the cover story of the June 2017 issue of Wealth Insight, 'Profit from the next green revolution', to learn how you should invest in agriculture-driven stocks. And we have a special offer that's just for today: higher discounts of up to 50% for subscriptions starting with this issue.
Like every month, there's a lot more in the issue. Here are the highlights of everything else that will help you get better returns:
Interview: Sanjiv Mehta, CEO of Hindustan Unilever fields our questions on why the FMCG giant is struggling to compete with Indian companies, and a lot else
Interview: 'The market crash of 1992 piqued my interest in stocks', says Kunj Bansal, Executive Director & Chief Investment Officer, Centrum Wealth Management
First Page: Dhirendra Kumar: Modi's dream of doubling farmers' income can come true. Despite widespread scepticism, a revolutionary hike in farmers' income is possible and will bring about a revolution in the country
Classroom: Investors may focus mostly on companies' numbers, but management quality is important too. Learn how to evaluate it using our online tools.
Market Compass:

Two faces of the Sensex: Why the price-to-earnings and the price-to-book-value ratios of the Sensex tell different stories about its valuations
Life in the times of Jio: Here is how Indian telecom companies are doing amidst the great disruption caused by Reliance Jio
The dynamics of the S&P BSE Capital Goods Index

Vis-a-vis: Here is how Bata and Relaxo Footwears, two leading companies in India's organised footwear sector, stand in comparison to each other
Main Street: Saurabh Mukherjea writes that India's family-owned businesses will have a tough time with succession planning and what investors should watch out for
Off Beat: Sanjeev Pandiya worries that low immigration rates, high debt, imminent US rate rises and declining exports could write an obituary of the Japanese economy
The Chartist: Devangshu Datta shows how a slew of factors, including the rise of renewable energy, UDAY scheme and power trading, are changing the face of the Indian power sector
Straight Talk: Anand Tandon writes about the idea that a rise in wages in productive sectors can spread to other sectors, thus resulting in higher prices over time
Generally Speaking: Vivek Kaul laughs at the absurdity of the media's love of predictions
Stock Ideas: Read about these investment ideas that you can use now:

Quality stocks available cheap
Attractive blue chips
High dividend-yield stocks
Discount to book value
Reasonably priced growth stocks

Stock Analyst's Choice: Our regular scorecard of the stocks we've recommended since 2011 and their performance.
Click here to subscribe to the printed version, or buy a digital subscription (PDF+online reader) instantly. You can also buy a digital copy of this issue without subscribing.