Contrary to some analysts' expectations, Kansai Nerolac Paints Ltd's decorative paint segment clocked double-digit volume growth in the March quarter. This is one reason why the stock was up nearly 1.5% intraday on BSE after its earnings announcement.
But the industrial coating segment saw low single-digit volume growth, hit by subdued automotive demand. "While the decorative segment, which contributes significantly to overall revenues, is likely to sustain this growth rate, the latter would remain sluggish," said managing director H.M. Bharuka.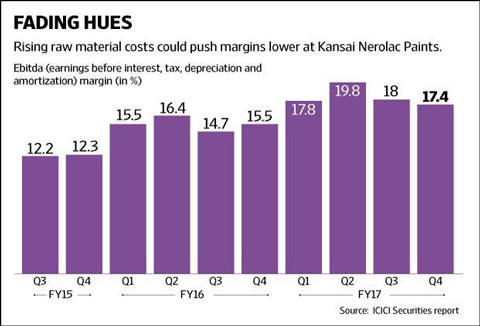 Net profit fell sharply by 81% year-on-year Rs 116.17 crore. The company attributed this decline to a one-time exceptional gain of Rs 535.34 crore seen a year ago from the sale of its Perungudi (Chennai) fixed assets. Despite that, net profit is higher than Bloomberg's estimate of Rs 104.80 crore, but is largely boosted by a 141% year-on-year increase in "other income".
However, what needs more attention is its operating performance.
Ebitda margins stood at 17.43%. Ebitda stands for earnings before interest, tax, depreciation and amortization. Though higher year-on-year, it has fallen from the peak of 19.8% seen in the September quarter. Then, commodity prices were lower and the foreign exchange situation was stable. Now, both have turned unfavourable. "Inflation has been high during the quarter, coupled with volatility in foreign exchange," the company said in a press release.
Prices of titanium dioxide, one of the key raw materials for paint makers, hit a four-year high in April 2017. Apart from that, prices of other crude oil-derivatives and monomers have also inched up. Since costs would remain elevated, Kansai Nerolac took a price hike of 2.5% in the decorative segment in March and another 3% hike in May. Its larger peer Asian Paints Ltd too had earlier announced of a price hike of around 2.5% that came into effect this month.
Some analysts believe the price hike could serve as a cushion ahead of the implementation of the goods and services tax (GST). But, according to Bharuka, the price hike taken by Kansai Nerolac has nothing to do with GST and is purely due to rising cost of raw materials.
The company is GST-ready and has processes in place, he said but added that he isn't sure whether the same is true for its dealers and distributors.
Though Kansai Nerolac has passed on the burden to customers in an attempt to protect its margins, the extent to which cost pressure will be offset remains to be seen.
Meanwhile, the stock is trading at a one-year forward price-to-earnings multiple of 42 times, which, while lower than its peers, is far from cheap.