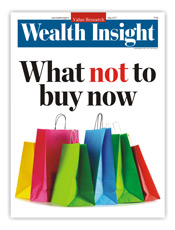 As equity investors, we are optimists by nature. However, there are times when we must be pessimists in order to maximise our returns. There is a time to buy and a time to ignore the markets. Is this such a time?
Read the cover story of the May 2017 issue of Wealth Insight, 'In the danger zone', to find out what you should do.
As part of the cover story, also read '8 mid caps you must avoid', for an analysis of stocks that a lot of people are talking up, but which we think you should give a miss.
Of course, that's not all there is in the issue. Here are the highlights of everything else that will help you get better returns:
Value Gurus: The stock - bond relationship: Why comparing bond and stock yields matters while picking a stock
Interview: Ajit Dayal, Founder, Quantum Mutual Fund: 'Earnings for 2017 are likely to be lower than earnings in 2014'
First Page - Dhirendra Kumar: Growth can solve all problems, but the equity investor must still be cautious about valuations at all times
Interview: Arundhati Bhattacharya, Chair, State Bank of India
Interview: Jim Rogers, Renowned commodities investor and hedge fund manager says that India is back on his radar
Classroom: Learn about key financial ratios that can help you invest better
Market Compass:

The rupee impact A strong rupee is both good and bad news for Indian companies
The dynamics of the Nifty FMCG Index

Vis-a-vis: How the top two air-conditioning solution providers, Blue Star and Johnson Controls, stand in comparison to each other
Main Street: Saurabh Mukherjea thinks that the impact of demonetisation is likely to be felt in Q4 also. An expensive stock market looks dicey as well.
Off Beat: Sanjeev Pandiya points out that a strengthening rupee against the dollar is likely to have negative implications for the economy
The Chartist: Devangshu Datta takes looks at the power sector and finds little ground for optimism
Straight Talk: Anand Tandon worries that rising interest in passive investing and the inability of active funds to beat their benchmarks mean that the days of active investing are numbered
Generally Speaking: Vivek Kaul points out that though we may fret at price hikes in times of shortage, economics tells us that this is just a normal occurrence
Stock Ideas: Read about these investment ideas that you can use now:

Quality stocks available cheap
Attractive blue chips
High dividend-yield stocks
Discount to book value
Reasonably priced growth stocks

Stock Analyst's Choice: Our regular scorecard of the stocks we've recommended since 2011 and their performance.
Click here to subscribe to the printed version, or buy a digital subscription (PDF+online reader) instantly. You can also buy a digital copy of this issue without subscribing.