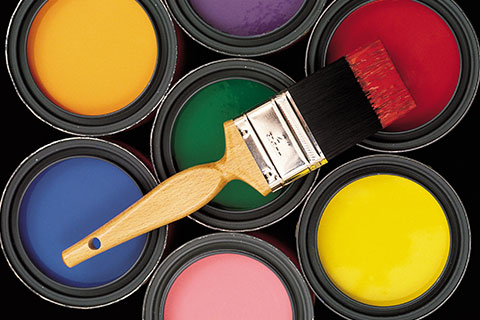 Prices of titanium dioxide (TiO2), one of the key raw materials for paint companies, hit a four-year high in April 2017. TiO2 prices in China, a key exporter of TiO2, have jumped more than 50% in the past one year, on the back of increased demand and supply disruptions. This is a concern for Indian paint companies as they import TiO2 and costs could increase as contracts get renewed at higher rates, thus crimping margins. Not only TiO2, but the prices of other crude-derivatives and monomers have also inched up.
Given the rising input costs, gross margins for Asian Paints Ltd, Berger Paints India Ltd and Akzo Nobel India Ltd are anticipated to reduce by 175-250 basis points (bps) while their operating margins will likely narrow by 125-150 bps, said a report by ICICI Securities Ltd. A basis point is one-hundredth of a percentage point.
In an attempt to protect their margins, paint firms resorted to price hikes of nearly 2-3% across board during the March quarter. Still, analysts expect these to only partially offset higher costs.
While margins are set to be hit, the picture on the volumes front is not bright either. The impact on sales due to demonetisation has receded to large extent, but decorative paint demand is yet to recover to pre-demonetisation levels of double-digit volume growth. Expectations are that paint companies would clock high-single digit volume growth in the March quarter.
In a recent report, analysts at JM Financial Institutional Securities Ltd forecast volume growth for paint companies to recover to 8% levels against the 2-6% growth reported in the third quarter. According to dealer channel checks by some brokerages, volume growth for firms was led by inventory build-up seen in February due to price increase and strong secondary sales in the month of March. It should be noted that most paint companies had reported nearly 12% volume growth in the same quarter a year ago.
Meanwhile, in a run-up to the implementation of the goods and services tax (GST), paint companies are planning a consecutive price hike in the June quarter.
"While Asian Paints announced a price hike of ~2.5% w.e.f. 1st May 2017, we expect other paint companies to follow suit with similar price hikes. Our interactions with paint dealers suggest that the second price increase will serve as a cushion ahead of GST implementation, in case a price cut is required depending on the rate structure finalized for GST," added the ICICI Securities Ltd report.
To conclude, the sharp-run up seen in the prices of raw materials is unlikely reverse any time soon.
For the earnings scenario to improve, volume growth needs to improve to double-digit levels sooner than later.
In arrangement with HT Syndication | MINT