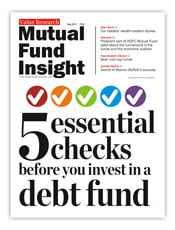 Debt funds should have been a simple product, but like everything else in the financial services industry, have ended up being far more complex than necessary. However, a set of sensibly chosen basic checks can ensure a problem-free experience for investors.
Read the May 2017 Issue of Mutual Fund Insight, '5 essential checks before you invest in a debt fund' for a set of do's and don'ts that will help you get the right results from your debt investors.
But that's not all. Like every month, here's everything else that we have for you in this issue.
First Page: Dhirendra Kumar shows how to get the real perspective on risks and returns.
Interview: Prashant Jain, Executive Director and Chief Investment Officer, HDFC Mutual Fund: 'In equities, patience is more important than intelligence'
Quick Chat: Sonam Udasi, Fund Manager, Tata India Consumer Fund
Category Watch: While mid-cap funds have generated great returns over five years, their valuations seem to have got stretched. A guide to the category.
Fund Analyst Choice: Seven mid-cap funds that our team has chosen for you
Top-Rated Funds: Funds that are rated five star by us
The Plan: Our subject is a non-resident Indian, working in the Middle East. We create a financial plan to help him achieve his goals, including retirement.
Ask Value Research: Our team answers savings and investment queries from readers
Fund Radar: Our news and notes about happenings in the world of mutual funds
Fund Reporter: Our digest of the month's most useful mutual fund news
How I Did It: In our series of real life investment stories of our readers, We narrate the habits of a highly effective investor: Having picked the habit of saving very early, Sanjay Simha has successfully accomplished his goals with the help of mutual funds
And the point is..: Vivek Kaul shows you Warren Buffett's secrets
Direct Advice: Aarati Krishnan explains the basics of why mutual funds are the best way of investing
Value Research Online: The SIP Return Calculator and the Point-to-Point Returns tool help you make sense of funds' returns and hence make better investment decisions
Scoreboard: India's most comprehensive mutual fund scorecard. Key performance numbers and investment details for each fund

The issue is now on news stands. You can also subscribe to the printed version, or buy a digital subscription (PDF + online reader) instantly. You can also buy a digital copy of this issue without subscribing.