Adhesive and industrial chemical maker Pidilite Industries Ltd's days of sharp margin expansion may be over. Not only analysts, but even the company's management is bracing for a scenario where margins will be lower. "We are sitting on all-time high margins driven by the all-time low commodity cost, right. Clearly going forward, these margins may not be sustainable," Pidilite Industries' management said in a conference call with investors and analysts after its December quarter earnings were announced.
On a year-on-year basis, the company's gross margin expanded in the December quarter, but fell on a sequential basis and that trend may continue as input costs firm up further.
While prices of other raw materials have gone up, the cost of vinyl acetate monomer (VAM)-a key input material-has not seen any significant increase and remains at $800/tonne. For now, a stable VAM price is a breather, but this respite may not be sustainable. VAM accounts for 35-40% of the company's total raw material cost together with packaging, and typically VAM prices are passed on with a lag, hurting margins, said a YES Securities Ltd report.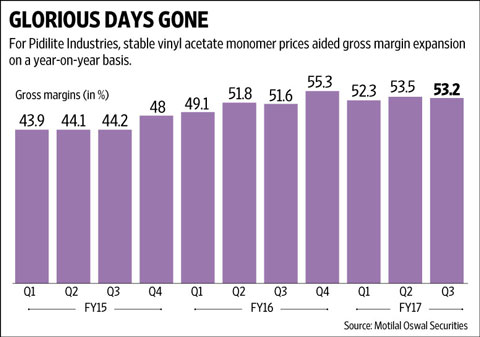 Talking about passing on prices to customers, Pidilite Industries has taken a marginal price increase of close to 1% in the current quarter for some of its products and further price hikes, if any, will depend on market dynamics and movement in input costs. Thus the picture on the cost front is not very bright.
That apart, the near-term demand outlook too is bleak. Though demand is picking up, it has not reached pre-demonetization levels, so it is difficult to call this improvement a recovery in demand, said the management.
That raw material costs have been surging is something that was already known but what has got some analysts more worried is the uncertainty about normalization of demand. So they continue to maintain a cautious stance on the Pidilite Industries stock.
Given the high competitive intensity, raising prices will not be easy, which will keep margins under check in the current scenario, said an Emkay Global Financial Services Ltd report. For all these reasons, several brokerage houses are now maintaining a "reduce" or "neutral" rating on the stock.
Meanwhile, shares of Pidilite Industries are trading at a one-year forward price-to-earnings multiple of around 36 times. Given the positives like a healthy balance sheet and a strong brand value in the adhesives segment, the company is poised to perform well in the long term, but considering the aforementioned concerns, these valuations appear rich.
In arrangement with HT Syndication | MINT