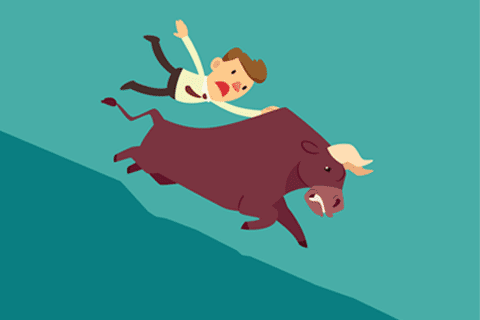 Bearing an uncanny resemblance to the meltdown in debt schemes of JP Morgan in 2015, Taurus Mutual Fund delivered a shocker after the net asset values of its Liquid Fund, Ultra Short Term Bond Fund and Short Income Fund saw sharp drops. This has subjected the schemes' investors to sudden losses.
Taurus Short Term Income Fund - Regular Plan has seen its NAV drop by 11.13% in just a single session. Taurus Ultra Short Term Bond Fund has tanked 11.79%. Taurus Dynamic Income Fund saw 11.82% drop in NAV, while Taurus Liquid Fund fell 7.22%.
The sharp drop in NAVs has been linked to India Ratings and Research (Ind-Ra) downgrading Ballarpur Industries Limited's (BILT) Long-Term Issuer Rating to 'IND D from 'IND BBB-'. BILT's term loans, fund-based and non-fund-based working capital limits, non-convertible debenture (NCDs) and commercial paper instruments have all been downgraded.
According to Value Research data, Taurus Short Term Income Fund, Taurus Ultra Short Term Bond Fund, Taurus Dynamic Income Fund and Taurus Liquid Fund had exposures of 11.96%, 11.94%, 7.47% and 4.3% respectively to BILT's commercial paper.
"The downgrade reflects delays in debt servicing by the company. BILT continues to face delays in the necessary deleveraging, as efforts to monetise its assets have not fructified within planned timelines. The company has also been unable to refinance its debt or elongate the maturity profile of its near-term debt obligations fully," Ind-Ra said.
So what should investors of these funds do now?
The commercial paper in question has been completely written off by the fund house so the damage has been done. It may be best to hold on to your units in the fund rather than exiting in haste. Selling now would realize the loss in your portfolio. Holding your units may allow you to benefit from any future recovery in the Ballarpur debt. This is exactly what had happened in the case of the JP Morgan funds, which had to write-off their holdings in Amtek Auto but were able to recover a majority of them in the following months.
To the credit of Taurus Mutual Fund, it has barred fresh investment in all the affected funds.
This is a sensible move as it would ensure that any recovery from the Ballarpur holdings accrues fully to the existing investors who have been hit by the event rather than new entrants.
Exposed Funds
No other funds currently have debt exposure to Ballarpur Industries, though debt funds of three other AMCs - DHFL Pramerica, Invesco and Reliance had exposure to the firm's Commercial Paper until November 2016.
However, 3 equity funds held BILT stock as on 31st January, 2017. HDFC MF Monthly Income Plan - Long Term Plan had 0.12% of its assets or Rs 4.68 crore invested. L&T India Special Situations Fund had 0.50% or Rs 4.50 crore. Small-cap scheme L&T Emerging Businesses Fund also has 0.62% or Rs 3.15 crore invested.
P.S.: Our rating methodology does not incorporate any subjective judgement or opinion. It is based purely on data of the fund's own past performance, comparison with benchmarks, and peers. The rating is consistent with these.