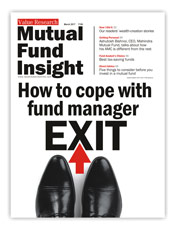 Fund managers are employees and change jobs when they get better opportunities. Yet, this is something that bothers investors. You invest in a fund because of its track record, and then the person who decides on its investments goes away. What should investors do when this happens? How do fund companies deal with this?
Read our March 2017 Issue of Mutual Fund Insight, 'How to cope with fund manager exit' for a guide to the issues that come up.
Of course, that's not all--there's a lot more in this issue for you.
First Page: Dhirendra Kumar points out that the cash deposit information revealed by the Finance Minister in the budget speech shows that demonetisation had a deep impact on black money holders
Interview: Anand Radhakrishnan CIO, Franklin Templeton India, talks about the AMC's track record and how it was achieved
Category Watch: Our annual analysis of tax-saving funds
Fund Analyst Choice: Nine tax-saving funds that our analysts have selected for you
Top-Rated Funds: Funds that are rated five star by us
The Plan: Our analysts advice young Gowtham on how to get going on a life of well-planned investing.
Ask Value Research: Our team answers savings and investment queries from readers
Fund Radar: Our news and notes about happenings in the world of mutual funds
Fund Reporter: Our digest of the month's most useful mutual fund news
How I Did It: In our series of real life investment stories of our readers, read about 55-year old Subbu Subramaniam's journey to becoming an expert mutual fund investor
Portfolio Moves and Quick Chat: An analysis of DSP BlackRock Small and Mid Cap Fund, and a conversation with its fund manager, Vinit Sambre
And the point is..: Vivek Kaul shows how you frame information can have a decisive impact on how it is perceived
Direct Advice: Aarati Krishnan discusses the five things you must consider before you invest in a mutual fund
Value Research Online: The Fund Compare tool helps you compare a set of funds you can choose
Scoreboard: India's most comprehensive mutual fund scorecard. Key performance numbers and investment details for each fund
The issue is now on news stands. You can also subscribe to the printed version, or buy a digital subscription (PDF + online reader) instantly. You can also buy a digital copy of this issue without subscribing.