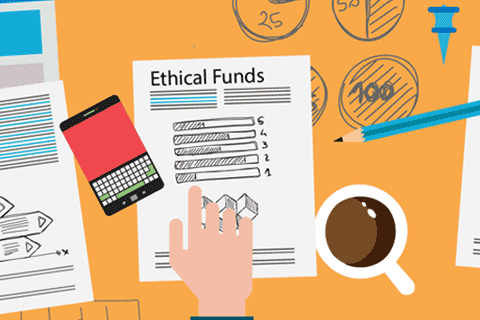 Ethical or socially responsible investing in developed markets like North America and Europe can tend to extremes. Right from staying away from businesses engaged in 'vices' such as tobacco and liquor, such funds have lately also taken to avoiding firms in mining, 'dirty' energy, diamonds and so on. This form of investing doesn't even spare companies with a record of bribery/corruption. In the Indian context, and especially with mutual funds, ethical investing has remained a niche, mainly dedicated to ethical investing as per Shariah principles.

Just three funds have been advocates of ethical investing, with Tata Ethical Fund being the oldest, launched way back in 1996. The other two are Taurus Ethical Fund and R*Shares Shariah BeES. Besides a minuscule population of investors who want to do ethical investing, two funds are vying for investors who want to follow Shariah law or Islamic finance principles.

The Rs 460-crore Tata Ethical Fund, categorized by Value Research as a multi-cap scheme, avoids investments in companies involved in activities like alcoholic beverages, gaming/casinos, non-halal food products and conventional financial institutions based on riba (interest). It also stays clear of companies with higher debt to equity ratios. Purification of any prohibited income on yearly basis is done as advised by Shariah advisor. Its top equity holdings include Maruti Suzuki India, RIL, HUL, Castrol India, Cipla, Glenmark, Bajaj Auto, Shree Cement, Britannia and Ultratech Cement. This fund has 10-year return of 10% CAGR and 5-year returns of 15.7%. This beats its benchmark's 5-year return of 14.61% and 10-year return of 8.95%. However, the fund's two and three year gains have failed to beat the benchmark Nifty Shariah 500.
"The big winners of 2016 were from metals, energy and banking sectors, many of which were not eligible for investment in the ethical fund," explains Pradeep Gokhale, Senior Fund Manager, Tata Mutual Fund. Gokhale explains: "The current universe for ethical investing is about 270 companies, which used to be about 240 a few years ago. The growth is a function of new companies getting listed in the market as also existing companies getting qualified due to reduction in their debt levels. There is reasonably a large universe of companies eligible for ethical investment."

In the Taurus Ethical Fund also, the fund manager and his team identify the stocks for investment from the stock universe available from S&P BSE 500 Shariah Index which is the benchmark index for this scheme. Being a Shariah compliant fund it follows the same rules as Tata Ethical Fund, and has to avoid conventional banks (since they earn money from interest), liquor firms and those involved in meat production. The fund's top equity holdings include a raft of IT companies like Infosys, TCS and HCL Tech. This could be a reason why it hasn't done well, as compared to its benchmark, in last 1 and 2 year periods when IT sector has been under some pressure. Besides infotech, the fund has top holdings in Maruti Suzuki India, Sun Pharma, Indraprastha Gas, AIA Engineering, and PSUs like ONGC and Container Corp.

Both Tata Ethical Fund and Taurus Ethical Fund, being actively managed schemes, have high expense ratios of 2.6-2.9% compared to the passively managed fund R*Shares Shariah BeES, which charges 1%. The Reliance MF fund, launched in 2009, essentially tracks the Nifty50 Shariah Index but is not a Shariah-compliant scheme. Its top equity holdings are in HUL, ACC, BHEL, BPCL, Cipla, Dr Reddy's, Eicher Motors, GAIL, Asian Paints and Hero Motocorp. The R*Shares Shariah BeES has done better than its Nifty-50 Shariah benchmark across 1 year, 2 year, 3 year and 5 year time frames. It carries no exit load as opposed to 1% for Tata Ethical Fund (if investments are redeemed within 365 days) and 0.5% for Taurus MF scheme (if redeemed within 180 days).