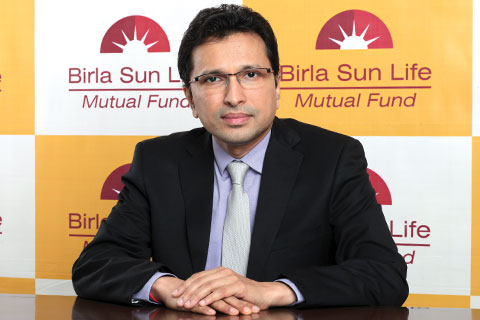 As I tried to collect my thoughts for this edition of 'Getting Personal', brokerage houses were lowering their GDP and Sensex forecasts, the Sensex was sub-26K, interest rates were heading south and market players were generally running around like headless chickens after the prime minister's lightning strike on black money.
Deciding that I needed to talk to a seasoned money manager, I reached out to a person who has always impressed me with his calm and down-to-earth manner, despite an enviable record of beating the markets for a dozen years running.
Mahesh R Patil, Co-Chief Investment Officer at Birla Sun Life AMC, had just got back from travel but readily agreed to a telephone chat on his Saturday off.
Market reset
Calling up at 5 pm, I jumped in with the burning question. "Was demonetisation a 'ctrl+ alt + del' moment for the market? Can this correction turn out to be similar to the one in 2008?
Mahesh replies with conviction, "No, we are nowhere near that situation. The recent correction in Indian markets has resulted from two things: demonetisation and global events. The economy was growing at a certain momentum and demonetisation has hit that momentum. It will take, maybe, a couple of quarters before we get back to normalcy. I also think the market has corrected largely because of the spike in US bond yields by 50 basis points and the dollar strengthening post-US presidential elections."
Mahesh holds the view that there will be medium- to long-term benefits to the economy, despite the short-term pain. Now that's a line many spout, but he backs it up with three concrete arguments.
"One, the demonetisation exercise will lead to some formalisation of those segments of the economy which were unorganised. This will gain support with GST. The government's tax collections will improve due to better compliance, leading to a greater fiscal room for the government to spend on stimulating the economy. Two, I expect a transfer of wealth from the super rich to those at the bottom of the pyramid." The government will use the gains from this move to improve welfare measures for the poor.
Mahesh also thinks that some black money will get 'mainstreamed' during this deposit drive. "I think the multiplier effect on the economy will be quite high, both because of locked-up money getting back into circulation and because the velocity of that money in the hands of the lower-income group will be higher. As more bank accounts are opened, these people will also have easier access to credit."

Sector shuffle
Well, this reset has seen blue-eyed boys such as the consumption stocks take a hard knock. So were fund managers, like him, prepared for such a sector rotation?
"No, I wouldn't say anyone was prepared for this. It took us by surprise. In fact, we were positioned to benefit from domestic discretionary spending on the back of the good monsoon, Pay Commission and rural buoyancy. We were also bullish on NBFCs," he admits.
Both these sectors have corrected more in this fall because of slightly higher valuations and over-ownership, says Mahesh. "I think low-ticket consumer staples will see only a short-term impact, say two months. Low-ticket discretionary spending should come back in three to six months' time. Big-ticket purchases and luxury goods may take longer. NBFCs should also benefit eventually through higher retail credit offtake and lower cost of funds. However, one needs to keep a close watch on loan against property (LAP) and SME portfolios. We will need to rejig our portfolios on these lines," he says, thinking aloud.
PSU banks seem to have gone from stone-cold to red-hot in the markets. How have his views changed on the sector?
"We were not as negative on PSU banks as we were a year ago and had been adding them selectively in the last six months, focusing on the bank's capitalisation, management quality and ability to clean up its balance sheet."
But he isn't totally gung-ho on PSU banks. "There is also a big change happening in the banking sector due to digitisation. Only a few PSU banks are equipped to deal with this transition. Plus, today there's a lot of man hours spent on deposit (CASA) collection, and focus on recoveries of stressed assets may get compromised in the interim. PSU banks also would see a rise in pension liability as the rates fall. Hence, we would be very selective. We continue to like private banks and think they can capitalise on the coming retail credit opportunity far better and continue to gain market share."
So who else can benefit from all this? Any guesses? Mahesh has some interesting ideas. "We are betting on companies that can capitalise on the shift from the unorganised trade to the organised and gain market share as GST also becomes a reality. A safe trade would be companies with stable cash flows whose value automatically rises as the cost of capital goes down. Utilities like power companies or asset-owners with annuity incomes are a good example. Financial services, of course, are the largest beneficiary from the lower cost of funds."
Wearing a large cap
I reluctantly abandon the hot topic and move on to more long-term ones. A fund that Mahesh personally manages - BSL Frontline Equity - has the remarkable record of beating its index in every one of the last 12 years. Very few equity funds, whatever their category, match this record. So what is Mahesh's secret sauce?
"I attribute it to the fund's disciplined approach of not having a very large sectoral deviation from the benchmark. I am style-agnostic, which allows me to position the portfolio based on my macro outlook. I would say most of the alpha generation comes from stock selection. A contrarian view backed by solid research helps."
Isn't it getting harder to beat the indices in the large-cap space? Mahesh agrees but says that he is confident that a 3-5 per cent index outperformance is within reach. "The market still provides a lot of mispriced opportunities. Stock prices do not follow fundamentals all the time - liquidity and sentiment often lead to big over or undervaluation. If you are very conscious of the intrinsic value of a stock, you can take advantage of mispricing to manage an alpha of 3-5 per cent even in the large-cap category. If you do this consistently, it will ensure top quartile performance."
Career moves
Mahesh has many interesting entries in his CV - big-name brokerage houses like Motilal Oswal and Parag Parikh and stints at CMC and Reliance Infocomm early in his career.
Most good money managers get better at gauging market moves only after burning their fingers in a market cycle. So were there any mistakes that Mahesh made, which he learnt from?
"Definitely," he agrees. "Early on, when I started my career in fund management in 2005, a big bull run had been on from 2003 onwards. Making money and outperformance came very easily. The mistake one made in those euphoric times was not having a clear view on the macro factors that were driving the markets. One was too focused on the micro (stock level). There was also less awareness of the risks at the portfolio level."

Some of Birla Mutual Fund's schemes did take quite a knock in 2008. "After the crisis, we quickly assessed the learning from our mistakes and reconstructed our portfolios. We also began to actively take a top-down view on the macros supported by various data points and bake it into our calls," recalls Mahesh.

He has also learnt to identify and deal with personal biases on stocks. "Sometimes one's stock ideas don't work and we continue to carry underperformers. One should always keep questioning one's views objectively and go back to the original thesis to see if it holds. Weeding out detractors from the portfolio is as important for alpha as holding on to outperformers," he muses.
I make a mental note of this recalling the lemons in my portfolio that I've put in cold storage for the 'long term'. It is harder to admit to mistakes and get rid of the duds!
Not moving
Well, these are the days when one hears of top-manager moves in the mutual fund industry almost every week. So why has Mahesh stayed with Birla Sun Life Mutual Fund for well over a decade?
Mahesh says he has a great attachment to the team he works with. "I started my career in fund management here and we have built a team from scratch. When you do that, you tend to have great bonding with the team. And Birla Sun Life AMC has been growing very well. It was at ninth rank when I started. Now it is at the fourth place and is likely to move up further. So why should I look for a change? If you build a track record at one place, it is best to carry on with it."
Well, good for him. With fund managers playing musical chairs, it becomes quite difficult for investors to assess a fund's track record.
His money
So where does Mahesh invest his own money and what's his current allocation? "I have always been a hard-core equity investor and believe that's where long-term wealth gets created. I would have about 80 per cent of my liquid assets in equities." Isn't that high? No, he says, as he understands the risk reward and volatility doesn't bother him. He also keeps some liquid investments at hand to make the most of market corrections.
So when does he jump in? "Being in the market, whenever I sense fear in the markets, I make lump-sum allocations to equities. That is actually the most exciting phase to invest. As a fund manager too, it is corrections that really excite me. You get to buy great stocks at good valuations," he says with palpable excitement.
The bulk of his equity bets, Mahesh explains, are in the funds he manages. "Today, my key investments are in BSL Balanced 95, BSL Pure Value Fund, BSL Top 100 and the BSL Infrastructure Fund. I had booked some gains in BSL Frontline Equity Fund earlier in the year and I am looking to get back into it in this correction."
Why Infrastructure Fund, I ask, spotting the dark-horse pick. Mahesh is a little sheepish on that one. "It was a hope trade! The investment hasn't played out as I had expected as of now."
Real estate
So, with interest rates tumbling like Jack and Jill down the hill, where are his debt investments parked? "I think the duration play in debt is slowly getting behind us and the reinvestment risk in debt is as real as rates come down. In this scenario, I have temporarily moved my debt money into arbitrage funds and liquid funds. I think for individuals the best category to invest in debt for the long term is dynamic bond funds, which can straddle across duration and credit, giving a decent return across market cycles. There is a strong case to move from bank fixed deposits into such a fund."
As a fund manager with high conviction in equity and given how the debt market has been in the recent past, Mahesh doesn't think one should be betting big on fixed income now. "There is not much charm in fixed income now as rates are approaching historic lows. In my view, the best debt returns are behind us. This is actually a good time to move some debt money into equities."
Is he like his industry colleagues who have a hearty dislike for real estate? Does Mahesh have property investments?
He owns a home in Mumbai, which he bought a decade ago. "I have been pretty fortunate in real estate and have invested into it at the right time. Since real estate is a very high-ticket and illiquid investment, it is important to buy it at the right price to make good returns. The beauty of real estate is the ability to take leverage easily to fund it, which one would not normally advise for equities."
Mahesh thinks that in India, the best time to buy real estate is when there is a prolonged slowdown in the market. "Prices haven't corrected much so far. But if demonetisation kicks off a correction, you would see distress sales. The next one year would be a great time to buy, especially because mortgage rates are also likely to be lower by about 100 basis points." But he also cautions that a balanced asset allocation is essential. If you have equities, you can balance that with fixed income and real estate.
He adds that it always pays to play contrarian in any asset class. Each asset class goes through cycles varying from five to eight years. "I have always seen that if you are blindly contrarian and buy in times of fear, it pays off."
Bandra boy
I ask him where he lives and Mahesh reveals that he has lived in Mumbai all his life. "I wish I had moved about a bit outside the city," he says with a tinge of regret.
What is this whizkid's favourite leisure activity? Mahesh gives me the standard reply: spending time with his family and two young daughters. He likes travelling to offbeat locations.
But he doesn't give a politically correct answer when I quiz him on fitness. "I would love to take up some fitness activity but haven't pursued anything regularly. I have tried gymming, walking and other stuff but haven't been able to keep up with it in a busy life. I do take out some time for meditation and that has really helped. But I'm fortunate that my metabolism keeps me lean and in shape," he says happily.
Is he a saver or a spendthrift, I ask on impulse. "I don't like to spend too much for myself. I don't mind spending any amount where it is needed, but I am rather conscious of the value I am getting out of every purchase. My wife sometimes says she would just like to buy things without so much of analysis," he laughs.
That's a comforting thought for investors in Birla Sun Life's mutual funds, though. Who wouldn't like a fund manager who stubbornly shops for value?