In the long term, handling downside in the stock market is as important as participating in big rallies. The performance of hybrid equity-oriented funds, or balanced funds, reminds us of this rule. These funds have managed one-, three-, five- and ten-year trailing returns that are all better than the large-cap equity category. This outperformance may not sustain if returns from debt portfolios fall or if equities take off in a big bull market. But it does prove that hybrid equity or balanced funds are a good low-maintenance choice if you want to make the most of both debt- and equity-market opportunities whenever they may arise.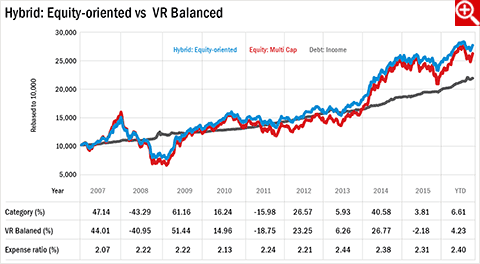 The one-, three- and five-year returns from the category on a trailing basis (as on December 31, 2016) stood at 6.55, 14.82 and 14.75 per cent, respectively, a very respectable CAGR, thanks to a good show from debt markets (due to falling rates) that propped up modest equity returns. While the average equity allocation in the category was at a high of 68 per cent, scheme-wise the allocation ranged from 58 to 88 per cent.
Despite the obvious pluses, the category has not been very popular until recently, featuring 51 funds with total assets of Rs 91,639 crore as of December 31, 2016.
Balanced funds remain an excellent choice for current market conditions when neither equity nor debt market returns can be predicted with certainty. Given that they are considered to be 'equity-oriented' for taxation purposes, balanced funds also offer a good way to earn tax-free debt returns.
We recommend the following balanced funds:
ICICI Prudential Balanced Advantage