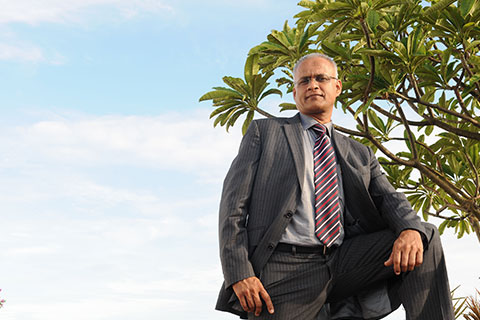 The top strengths of our AMC are consistent dividend-payment track record in our schemes, significant diversification in our business due to a retail focus, a strong process-oriented focus on research and risk, and a good understanding of the mid-, small-, micro- and nano-cap space. We have a wide network of small distributors and extensive geographic footprint through more than 600 branches of our AMC and those of our parent, Sundaram Finance.
Our large-cap schemes have recently not performed as well as they did in the past. This has limited the growth and scalability that we could have otherwise achieved. To resolve this weakness, we are­ hiring new talent in investment management, merging schemes to create a sharper focus and creating space for clearly demarcated large-cap and diversified offerings.

Challenges ahead
From the business perspective, we need to ensure that the excellent performance of our schemes is maximised from a sales perspective. We are also tapping into fast-growing opportunities like alternative-investment funds (AIFs) and the recent approval to provident funds to invest in equities, etc.
From an investment perspective, we need to build capabilities in passives, arbitrage and alternatives.
Growth strategy
We are making investments in setting up an additional equity-investment desk in Mumbai. We have
programs to enhance sales-force effectiveness using digital enablement and through coaching and imparting vocational skills such as consultative selling.
Fund costs
Looked at from a cost-to-value-added (alpha generated) perspective, Fund costs in India are not at all as high as perceived. Costs are also high due to the high cost of acquiring and servicing clients through the distribution model. This is a necessary cost, given the low penetration of mutual funds.
Technological initiatives
Attempts to bring costs down are being made through greater reliance on technology. Initiatives involved are promoting the use of MF Utility, IPIN-based paperless transaction through our website and through those of distributors, and empanelling third-party-online aggregators who are entering into mutual-fund distribution.
Outlook for equity, debt and gold
Equities should do well as they are correlated to the India economic outlook, which is quite good. Debt performance is positively correlated with the expected soft interest rate as well as stable inflation scenarios and gold could be a beneficiary of the global liquidity surge and negative interest-rate scenario prevailing.