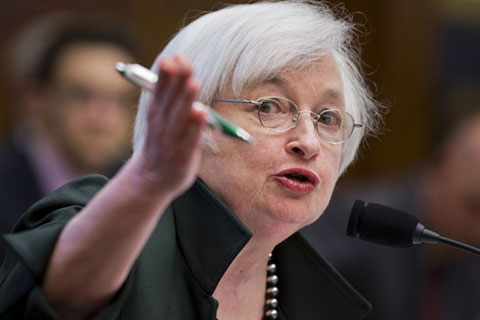 U.S. Federal Reserve chief Janet Yellen has finally raised interest rates in that country. Ordinarily, macroeconomic developments of a country should not have a bearing on foreigners. But America is no Nepal! Thankfully though, unlike the Brexit shock and Donald Trump's surprise Presidential poll win, this time global financial markets were prepared. Fed is not done with its rate hike cycle. Higher interest rates could mean both good and bad things for Indian assets. Value Research spoke with a bevy of experts to gauge the impact on your mutual fund investments, and the way forward.
Equity
Harsha Upadhyaya, CIO (Equity), Kotak Mutual Fund explains that the recent Fed rate hike was "in line with consensus expectations" of 25bps hike, and hence the market reaction was not much. What was more hawkish compared to market is the likelihood of three rate hikes during calendar year 2017. However, market seems to be taking comfort in the fact that even last year, during the policy meet, they had indicated there could be four interest rate hikes during calendar year 2016 but in the end you saw only one. So, to that extent, may be market is feeling a little bit comfortable that Fed may not be able to do three rate hikes ultimately, according to the veteran fund manager.

"Overall, we advise existing investors not to panic on this event and stay invested. During 2017, when the rates are again raised, if there is volatility that can be used to increase exposure for longer term gains," the Kotak MF official said.
Upadhyaya feels that equity as an asset class could see some impact in the near term. "In the short term, there could be some impact on flows into emerging markets including India. Longer term attractiveness of Indian equities continues and we should expect flows to not get impacted by Fed rate hikes in the medium to long term," he reassures.

Sunil Subramaniam, CEO, Sundaram Mutual wants MF investors to understand the changing paradigm. In the past ten years we have seen that the correlation between Indian ten year Gsec and US ten year note has been largely negative barring for the 2010 and 2011 period. "Intuitively US economy should exert it's influence on India through the currency markets by the possible weakening of the INR which can be inflationary for India; having said that the commodity prices and level of external trade will be the larger driver and in the current scenario commodity prices are manageable and the global external trade is muted. The spread between Indian and ten year Gsec and US ten year note has been at a median spread of 543 basis points, a low of 272 basis points and a high of 697 basis points," he says.

He expects the current government to be prudent and maintain good fiscal prudence and in the new framework of monetary policy the inflation being largely within a range of 2% to 6% will mean a tougher stance on inflationary pressures.

Subramaniam, who has earlier worked with American Express Bank and Bank of America, says it's too early to predict what the new US administration will be able to do for the economy - from the jaw boning it is assumed that spending on infrastructure can take place creating more jobs but simultaneously putting strain on the fiscal.

"This can mean inflation coming back and moving the yields across the spectrum upwards. Assuming this happens, we can expect the Federal Reserve to hike rates at a quicker pace. In that event, if the Indian macros get impacted by the Federal Reserve hikes due to stronger Dollar/weaker INR and at the same time credit demand and imports rise it can mean a tighter monetary policy stance by India.

"On the other hand, if India is able to contain its fiscal and current account without any major fallout, the rates in India are likely to remain stable in a range. In both the events we don't expect the rate cuts to be delivered. In the longer run the economic growth rate in India and its implication will drive the markets, at a higher level of GDP we will be able to have better shock absorbing capacity from volatile flows and hence a turbulent forex markets," Sundaram Mutual chief executive remarked.

Dhaval Kapadia, Director, Portfolio Specialist, Morningstar Investment Adviser India says that any big outflows from Indian equity markets by yield-chasing US investors isn't as big a problem today. "Our markets today have strong and robust domestic flows. That support has played out in November. Mutual funds poured in as much money as foreigners took out. That makes the case for India stronger," Kapadia notes.
Debt
Debt products are gaining traction in India. More than equity, it's probably debt securities that can witness a bigger impact due to higher US interest rates.
Avnish Jain, Head - Fixed Income, Canara Robeco, says there is nothing to panic about for investors investing in MFs, as the possibility of rate hike was already factored in. Though in the short term, markets are likely to remain volatile, India's long term story still remains strong. "Investors should view the short term volatility as an opportunity to increase their allocation in a staggered manner and invest from a long term perspective," Jain adds.
Further, there is likely to be positive spill-overs of demonetisation on tax collections and overall government finances, improving the fiscal deficit. "Once the global dust settles, we might see RBI cutting rates in the future policies. All these factors augur well for both debt and equity markets on long term basis,: said the Canara Robeco fund manager.
Bekxy Kuriakose, Head - Fixed Income, Principal Pnb Asset Management feels that existing debt investors can stay invested as they would have made good returns even post the rise in domestic bond yields due to the FOMC meeting outcome. "As far as new investments are concerned we would recommend ultra-short term and short term funds. For investors who have little or no exposure to duration, the ongoing correction can be an opportunity to invest in gilt/dynamic bond funds," she thinks.
The US Fed wants to hike rates further, it has indicated. In this backdrop, should new and existing Indian MF investors do anything so that they can gain from such moves? Kuriakose says: "If the alternative is keeping in bank account or low yielding investments, then investors should stay invested and follow a balanced asset allocation pattern. Markets will move on manifold events. The US Fed rate hike possibility is not the only event which will affect debt markets in the coming months."
Puneet Pal, Debt Fund manager, BNP Paribas AMC feels that debt fund investors must be cognizant of the fact that the US Fed has indicated 3 rate hikes in 2017 as compared 2 earlier. The bond markets reacted negatively to this guidance and the dollar rallied to multi year highs.
"Global bond yields have already risen by 70-75 bps over the last one month post the US election results which factors in a faster pace of US rate hikes. We think that over the next one month the global bond yields will stabilize along with emerging market currencies," Pal assures.
He also expects RBI to cut the repo rate by 25-50 bps over the next 6 months in response to lower Inflation. We expect Inflation to undershoot RBI's target of 5% by March 2017.
What if a new investor wants to invest in the prevailing situation? Pal said: "Any new Investor in Fixed Income Mutual Funds can start with Short Term and Ultra short term Income Funds without worrying too much about the current volatility in the markets. Existing investors in short term income funds can look to increase their allocation and those investors who are invested into long duration funds can look to shift their allocation into short term Income funds slowly over the next six months."
BNP Paribas AMC believes that investors should stick to the shorter end of the yield curve as from a three year Investment horizon we see the short term income funds a better option for both the new and the existing investors.
Subramaniam of Sundaram Mutual feels that the currency impact needs to be understood for debt fund investors. "...a stronger dollar can cause the INR to depreciate and hence have inflationary impact on the price indices as the volatile flows move out and also a possibility of global inflation picking up from a situation of deflation. We would advise shorter term investors to start switching out of longer duration funds and moving into shorter duration funds with accrual focus," he added.
Murthy Nagarajan, Head-Fixed Income, Quantum AMC said: "The Fed rate hikes will mean more outflows from debt and equity market by Foreign Institutional Holders. This would be negative short term but should be good for Indian market as a strong dollar has an inverse co-relation with the commodity prices. This should keep global inflation under check."
So in the short term, things can get a bit uncomfortable. Killol Pandya, Head - Fixed Income, Peerless Funds Management says: "The immediate implications of a Fed hike are negative for domestic bond markets. There may be some selling by FIIs and a general 'risk off' sentiment which may lead to some negative moves in Indian bonds in the short term. However, from the medium to long term perspective, the domestic markets may be more responsive to domestic developments and factors such as lowering CPI inflation, ample market liquidity and a relatively benign fiscal deficit condition."
He wants investors with a short term investment horizon to consider investing in funds which have little or no exposure to duration instruments. Those with a medium to long term investment horizon may consider investing monies in funds which have a moderate duration exposure, Pandya advises.
Nagarjan of Quantum feels investors should moderate their return expectations as the expectation of RBI cutting repo rates aggressively looks difficult now. "The interest rate differentials is less than 400 basis points between the ten year US Yield of 2.54 % and ten year India yield of 6.48 %. The Indian currency is also expected to depreciate against the dollar in the coming months as the US economy recovers due to fiscal stimulus expected during Donald Trump presidency," he reasons.