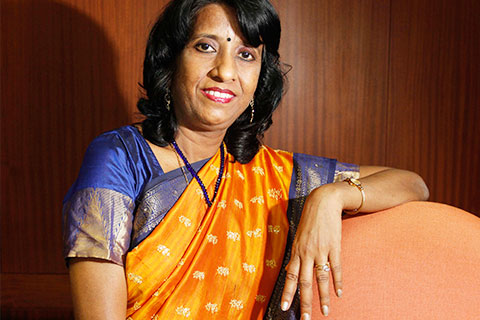 The topmost strength of LIC Mutual Fund is the strong brand value of our parent, LIC of India. The AMC has a strong connect with institutional clients. We are working very hard to establish the same connect in the retail segment, with added focus on B15 areas. We need to establish a robust distribution network with major banks and national distributors. Several such tie-ups are in progress.
Overall the philosophy of the company is to help our investor enjoy 'khushiyaan zindagi ki' by providing ease of investing.

Challenges ahead
The regulator has been introducing various changes in the mutual-fund industry for the last couple of years. These seem disruptive in the short term but would certainly have a positive impact on the industry in the long term. Our industry is adjusting to the changes very well.

We are in a world where volatility is the new normal and many macro variables are likely to undergo drastic changes. Businesses dependent on global cyclicality may face headwinds. Limiting risks at appropriate levels would be a key challenge in the upcoming year.
Growth strategy
In terms of talent acquisition, we have as much as possible ensured that the talent is of top quality, with a good pedigree and consistent past-performance track. Further, we have identified all functional competencies for each unique position across levels. This has been aligned with a strategic learning-and-development plan.
Fund costs
While costs are important, the investor should look at the overall investment experience they get through mutual funds. Having said that, the investor has an option of direct plans, wherein the costs are relatively low, and low-cost funds, like ETFs and index funds. The cost should not be seen in isolation. Equity penetration is still low in India as compared to developed nations. Mutual funds are still a push product and we need to compensate the distributor for the efforts he takes to bring the investor to mutual-fund investing.
Technological initiatives
Through e-KYC and our robust online-transaction platform, any new investor can invest in our funds in few clicks. We have hosted various online tools and calculators on our website meant for retirement planning, investment planning, etc. We have launched our social-media initiatives and we are seeing good traction with investors on these platforms. We have also launched our investor-education and awareness micro site, wherein investors can benefit from valuable information. We are planning to introduce a mobile app and an iSip facility for our investors very shortly. Similarly, we are working on how to make use of the recently introduced United Payment Interface.
Outlook for equity, debt and gold
The outlook for Indian capital market is positive because our macros continues to remain very strong, driven by fiscal discipline and improving momentum on economic reforms. As the global uncertainty keeps coming down, gold prices are likely to soften.