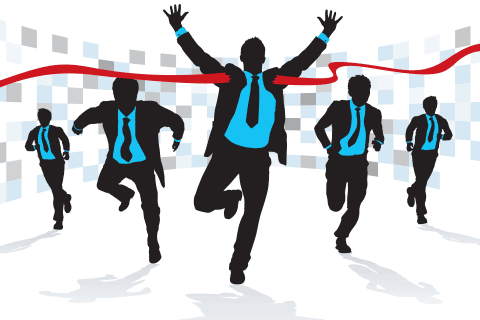 A company enjoys production advantages when it can deliver its products or services cheaper than its competitors. Such companies can get this advantage because of either privileged access to inputs, copyrights or patents that prohibit competitors from imitating them.
Domino's pizza manufacturer, Jubilant Foodworks, operates at a slim NOPAT margin of 4 per cent. However, capital efficiency of three times pushes its ROIC up to 12 per cent. Similarly, voltage-stabiliser manufacturer V-Guard runs at a NOPAT margin of 6 per cent. Its capital-efficiency ratio of more than 3.6 times vaults its ROIC to 22 per cent.
Production advantages can be divided into the following parts: complexity, patents, resource uniqueness and distribution network.
Complexity
Selling foodgrains is a simple business. Companies buy foodgrains from farmers, package them, put a brand name on them and sell them. Many other businesses are not so simple. Castrol, for instance, prides itself on the high-quality engine oil and specialty lubricants. The complex nature of its specialised products means that a new entrant will find it difficult to imitate its products. There are other complex businesses. Technology and pharmaceuticals often fall into this category. Table 1 mentions some complex businesses. Patents
Patents and copyrights allow a firm to have ownership of a product or process that no competitor can easily imitate. 3M India enjoys the benefits of patents that its parent owns. It enjoys a NOPAT margin of only 8.8 per cent, but a 1.5 times capital-efficiency ratio improves 3M's ROIC to 13 per cent. Other businesses that enjoy patents are Abbott, Bosch, Monsanto and GSK Pharma. Table 2 lists companies that enjoy patent benefits.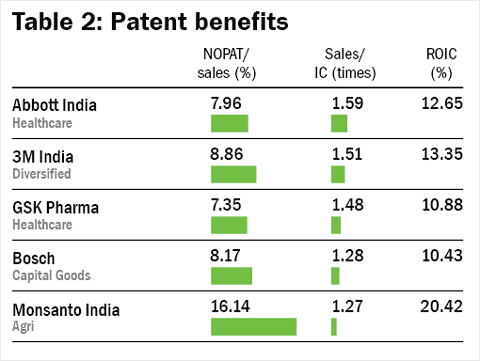 Resource uniqueness
When a company has access to a resource or an input that its competitors do not have, the company enjoys a resource advantage. Astral Poly Technik operates at a NOPAT margin of only 7.6 per cent, but it has rights to use chlorinated PVC pipes (CPVC) - PVC pipes that are more heat-resistant - by way of a licence from the US-based Lubrizol, which owns the CPVC technology. This helps Astral report a capital efficiency of 1.7 times, which pulls its ROIC to 12.83 per cent. Other companies that enjoy resource uniqueness include PI Industries and Dhanuka Agritech. Both benefit from the licences they have from innovator companies, which allow them access to the inputs competitors do not have. Table 3 points to the companies with resource uniqueness.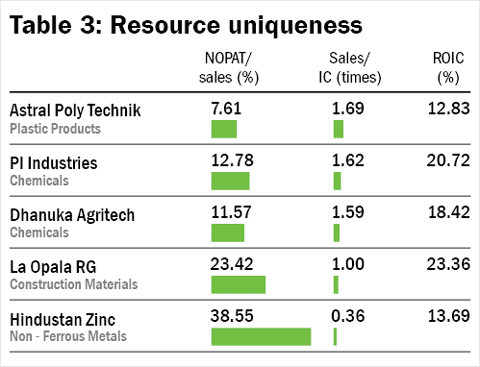 Distribution network
An entrenched distribution network is a competitive advantage very few companies can boast of. This distribution network can often be the primary driver of sales. Companies like Hindustan Unilever or ITC in the FMCG space and Maruti in the auto sector are entrenched well in the hinterlands. Look at the companies mentioned in Table 4. These enjoy the benefits of a strong distribution network.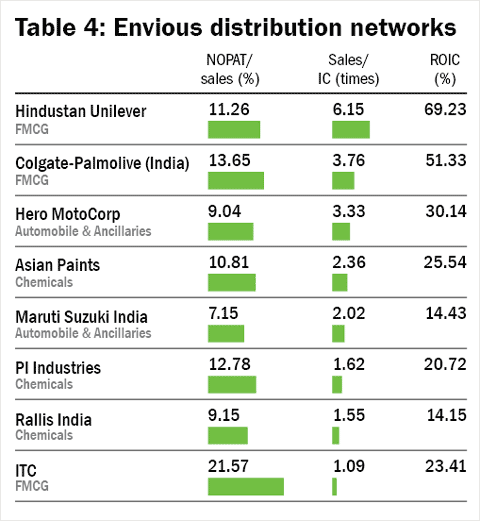 Here are the other articles of this series.