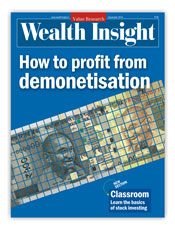 Undoubtedly, demonetisation is the biggest economy-wide surprise that Indian businesses have faced for decades. However, it is unsual in the short-term impact being mostly negative and yet the long-term impact likely being positive. Read the cover story of the December 2016 issue of Wealth Insight, 'How to profit from demonetisation' for an initial analysis of the impact. As times passes, we shall continue to bring you deeper and deeper analysis of how demonetisation is playing out for different stocks and sectors.
Of course, that's not all. Here are the highlights of everything in this issue that will help you make better investment decisions and generate better returns:
Company Tale: Dabur is preparing itself for coming battle royale with Patanjali
Interview: Airtel CEO Gopal Vittal sounds off about the coming battle with Reliance Jio
Interview: Nirmalya Kumar, former member, Core Group Executive Council, Tata Sons tells us some interesting facts about the Tata-Mistry war
First Page - Dhirendra Kumar: The demonetisation drive will discourage those who amass black money by infusing in them the fear that they may just lose all of it suddenly
Market Compass: Index stocks, fear of volatility, the pharma index, stocks that have rewarded shareholders in a falling market, and MNC premiums.
Analysts Diary: The illusion of surplus cash on balance sheets, and telecom stocks' problems
Straight Talk: Anand Tandon explains how the election of Donald Trump, demonetisation, and the spat in the Tata group have kept the market on edge
Main Street: Saurabh Mukherjea shows how, though the Indian market looks overvalued, money can still be made in quality stocks over the long term
Off Beat: Sanjeev Pandiya thinks that demonetisation opens up newer avenues for cleaning up the Indian economy
The Chartist: Devangshu Datta writes that demonetisation is going to shake up the entire financial sector, but the financial institutions that survive it will be much stronger
Stock Ideas: Read about these investment ideas that you can use now:

Quality stocks available cheap
Attractive blue chips
High dividend-yield stocks
Discount to book value
Reasonably priced growth stocks

Stock Analyst's Choice: Our regular scorecard of the stocks we've recommended since 2011 and their performance.
Click here to subscribe to the printed version, or buy a digital subscription (PDF+online reader) instantly. You can also buy a digital copy of this issue without subscribing.