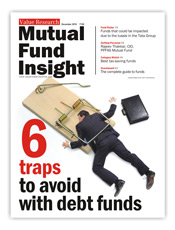 Interests rates in India are on the way down. This was true even before demonetisation-related deposits started flooding in to banks. But now, there's no doubt about it. There are still a lot of uncertainties arising from demonetisation but lower earning from your bank deposits are a certainty. For savers, this opens the way to debt funds as the obvious alternative. However, most of us have a lot to learn to handle debt funds right and the cover story of the December 2016 Issue of Mutual Fund Insight, '6 traps to avoid with debt funds' tells you all you need to know.
But that's not all--the issue, has a lot more for you.
First Page: Dhirendra Kumar points out that for taxpayers who invest in mutual funds, demonetisation is a time to celebrate
Getting personal: Rajeev Thakkar, CIO, PPFAS Mutual Fund, talks about the fund, markets and his personal investments
Category Watch: Our annual review of tax-saving funds, just in time for those who didn't plan ahead
Fund Analyst Choice: Eight tax-saving funds that are worthy of investment, chosen for you by our analysts
Top-Rated Funds: Funds that are rated five star by us
The Plan: Mukesh is about to retire, here's how he can both grow as well as protect his capital during his retirement
Ask Value Research: Our team answers savings and investment queries from readers
Fund Radar: Our news and notes about happenings in the world of mutual funds:

FIs there a Tata trap for mutual funds?

Fund Reporter: Our digest of the month's most useful mutual fund news
Portfolio Moves: An analysis of L&T Emerging Businesses Fund
Quick Chat: Sonam Udasi, Fund Manager of Tata Equity PE Fund describes how he selects value stocks for his fund
Direct Advice: Aarati Krishnan When information is not power...
And the point is..: Vivek Kaul discusses the legacy of PV Narasimha Rao
Value Research Online: The Fund Compare tool helps you compare a set of funds you can choose
Scoreboard: India's most comprehensive mutual fund scorecard. Key performance numbers and investment details for each fund
The issue is now on news stands. You can also subscribe to the printed version, or buy a digital subscription (PDF + online reader) instantly. You can also buy a digital copy of this issue without subscribing.