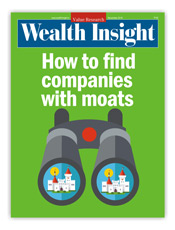 Investors can make sustained gains if they can identify companies that have managed to dig a moat around their businesses.
Originally, 'moat' was just the word for the water body around a fort that would protect it from invaders. Similarly, a business moat is a competitive advantage that gives a company an edge over its competitors. It's something that can prevent other companies from attacking it's profitability. Value Research has long tracked businesses that have deep economic moats. To understand the concept of moat--and see our examples of such companies, read the cover story of the November 2016 issue of Wealth Insight and find out what the effect on the equity markets will be, and which sectors and companies will bloom in the annual rains.
Of course, that's not all that's there in this issue. Here are the highlights of everything else that will help your investments generate higher profits:
Interview: In a wide-ranging interview, R. Seshasayee, the non-executive chairman of Infosys, talks about everything that's going on in the IT services giant
First Page: Dhirendra Kumar shows how those who think that riding trends in the market is a surefire way to make money can't be too lucky for too long
Market Compass: The Nifty FMCG Index, the compromised safety of consumer staple stocks, the pause on global equity markets, and the Sensex' 30-year journey
Book Review: 'Bandhan' by Tamal Bandyopadhyay, is an engrossing story of how the microfinance player Bandhan is making a difference in the country
Analysts Diary: Domestic-focussed sectors are doing well, the illusory discount between market cap and enterprise value, the lessening concentration of Indian equity markets, the impact of the fall of the gas prices, and the fate of the Chinese economy

Straight Talk: Anand Tandon proves how a portfolio comprising companies undergoing demergers and those that have been spun off can decisively beat the market
Main Street: Saurabh Mukherjea discusses 'The MRT factor', the long range impact of policy decisions triggered by Modi, Rajan and technology are transforming access to endmarkets, capital and physical infrastructure
Off Beat: Sanjeev Pandiya writes about how following the principles of behavioural economics may not make our decisions perfect, it can make them better over the long term
The Chartist: Devangshu Datta foresees how the increasing use of electronic payments over cash transactions will change the economy in a fundamental way
Generally Speaking: Vivek Kaul thinks what keeps entrepreneurs going is overconfidence in their abilities.
Stock Ideas: Read our refresh of these investment ideas that you can use now:

Quality stocks available cheap
Attractive blue chips
High dividend-yield stocks
Discount to book value
Reasonably priced growth stocks

Stock Analyst's Choice: Our regular scorecard of the stocks we've recommended since 2011 and their performance.
Click here to subscribe to the printed version, or buy a digital subscription (PDF+online reader) instantly. You can also buy a digital copy of this issue without subscribing.