The last three years have seen mid-cap equity funds deliver a blockbuster performance. The category now sports a three-year CAGR of 32.32 per cent, as compared to about 15.91 per cent for large-cap equity funds. The good returns have also contributed to growing popularity of this fund class, with the 42 open end funds now managing over Rs 76,874 crore in assets by end of September 2016. Even the worst performers in the category have managed a 26 per cent CAGR, which would have doubled investor money in the last three years while the best ones have managed 44-45 per cent CAGR.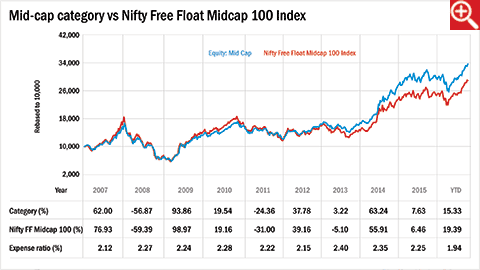 The exceptional returns are partly the result of the starting point for measuring three-year returns, which coincides with the recent market low of August 2013. As the economy and markets have rebounded from a crisis situation three years ago and bounced sharply, beaten down mid and small-cap have been big beneficiaries. The 'starting point' effect is also the reason why the lumpsum returns on mid-cap funds for 3 years at 32.32 per cent, today look so much better than SIP returns which average 22.72 per cent. The five-year situation is the reverse. SIPs with a 23.9 per cent IRR have outperformed lumpsum investments with a 21.22 per cent point to point return. Given that mid-cap returns are bound to be volatile over market cycles, the five-year returns may be more indicative of long-term potential. SIPs thus remain the best route to play this space.

The recent exceptional run is actually reason for investors to tread with a bit of caution on this category. One, the mid-cap indices in the market are expensive in relation to bellwethers such as the Nifty and Sensex. Yes, the portfolio PEs of the mid-cap funds are lower. But that is still not very cheap and suggests that growth expectations from the category are quite high. Also, mid-caps usually tend to offer muted returns in a sideways or volatile market; market volatility is certainly expected to rise in the months ahead.
In our shortlist of mid-cap equity funds this month, we have taken care to choose the ones that have navigated both bull and bear markets quite well over at least a cycle, as that is the secret to long-term wealth creation from this category.
Most-popular stock holdings
| | | | |
| --- | --- | --- | --- |
| Company | Fund count | Net assets (%) | Nifty 500 Index |
| The Ramco Cements | 21 | 0.64 | 0.16 |
| Divi's Laboratories | 20 | 1.96 | 0.35 |
| FAG Bearings India | 18 | 1.13 | 0.07 |
| Indusind Bank | 18 | 0.99 | 1.25 |
| Torrent Pharmaceuticals | 18 | 0.88 | 0.17 |
| Federal Bank | 17 | 1.36 | 0.26 |
| HPCL | 17 | 0.94 | 0.44 |
| Bharat Electronics | 16 | 0.88 | 0.16 |
| Exide Industries | 16 | 0.72 | 0.18 |
| MRF | 16 | 0.73 | 0.26 |
| Voltas | 16 | 1.22 | 0.19 |
| Amara Raja Batteries | 15 | 0.48 | 0.17 |
| Multi Commodity Exchange India | 15 | 0.83 | NA |
| Tata Chemicals | 15 | 0.59 | 0.19 |
| Kotak Mahindra Bank | 14 | 0.85 | 1.89 |
We recommend the following mid-cap funds:
HDFC Mid-cap Opportunities Fund
Invesco India Mid N Small Cap Fund
JP Morgan India Mid and Small Cap Fund
Mirae Asset Emerging Bluechip Fund