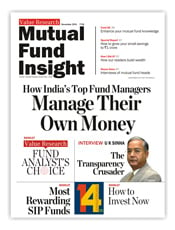 Wouldn't you like to know how fund managers manage their own money? I think most fund investors would. In the latest issue of Mutual Fund Insight, you can. Pick up the Special 14th Anniversary Issue of Mutual Fund Insight, 'How India's Top Fund Managers manage their own money' and read all about the investment and asset allocation strategies of those who manage your money.
Of course, since this our anniversary issue, it has a great deal more for you. We have 200+ pages packed with information, data and knowledge, including Three Free Booklets.
First Page: Dhirendra Kumar discusses how being bored is good for investors
Free Booklets:

Fund Analyst's Choice: India's Finest Funds - Our selection of funds from which you can create a portfolio to suit any investment need
How to Invest Now - How to get started saving the right way and tune your approach to your needs
Most Rewarding SIP Funds - A unique primer on using Systematic Investment Plans and the best SIP funds

Interview: In almost six years as India's chief markets regulator, SEBI Chairman UK Sinha has established himself as a transparency crusader. An exclusive interview
Special Report: How to grow your small savings to

Rs

1 crore
House Voice: In our comprehensive annual feature on all fund companies, their CEOs talk about the mutual fund industry, their growth plans, the role of technology and the performance of various asset classess
Fund GK: Enhance your knowledge about mutual funds
How I did it: Real life stories of how our readers invest and prosper
Top-rated Funds: A compilation of the highest rated funds
Scoreboard: India's most comprehensive mutual fund scorecard. Key performance numbers and investment details for each fund
The issue is now on news stands. You can also subscribe to the printed version, or buy a digital subscription (PDF + online reader) instantly. You can also buy a digital copy of this issue without subscribing.