Multi-cap funds, in recent years, have emerged as the go-to category for the first-time investors in equity funds. After all, large-cap funds play it too safe and mid-cap funds, which offer high returns, can subject you to nasty jolts in a roller-coaster market. Multi-cap funds offer a bit of both. The five-year return on multi-cap funds is 13.6 per cent against 11 per cent on large-cap funds.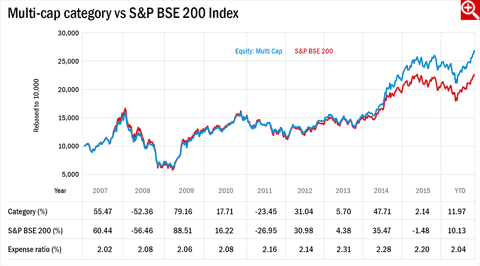 The popularity of the category has also seen a burgeoning number of funds taking to a multi-cap strategy, with 70 such funds managing a collective Rs 1.11 lakh crore as of end July 2016. With mid-cap stocks shooting through the roof, multi-cap funds have delivered excellent returns lately, with a three-year CAGR of 23.4 per cent and a five-year CAGR of 13.6 per cent. With a three-year return of 17 per cent, SIPs have underperformed lump-sum investments over three years as the markets bounced sharply from their lows in 2013. Five-year SIPs are still ahead of lump-sum investments, with a 17 per cent return.

While multi-cap fund mandates were quite fluid earlier, the category toppers featured here have fairly watertight mandates as to how much of their portfolio they will allocate to large-cap, mid-cap and small-cap stocks. Most of them favour a large-cap tilt and have very marginal allocations to small-cap stocks with a view to containing risk. They also refrain from making sharp tactical swings in their allocations based on market conditions as this requires an element of timing.
Most-popular stock holdings
We recommend the following multi-cap funds: