Shreyash Devalkar, Fund Manager - Equities, BNP Paribas Mutual Fund, has some handy advice for investors eyeing cheap stocks. He feels that most often the challengers and consolidators are available at lower valuations if one identifies them early. Leaders are the one which generally trade at high valuations. But the trick is to understand that if leaders are available in sectors which are growing fast and are just emerging, over the long term the valuations would not matter much. The fund manager in an interview with Kumar Shankar Roy also talks about the disruption in telecom sector and why he became bullish on the aviation space.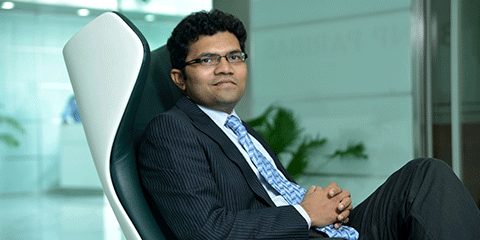 How do you define superior quality management when it comes to stock investments? Is better corporate governance measurable and how do you do it?
Assessment of quality of management has multiple aspects. Best corporate governance and quality of management is reflected eventually in various financial ratios for a particular company vis a vis its industry peer, which include RoE, working capital cycle, tax payment, quality of cash flows (FCF / PAT), asset turnover ratio etc. Most important element of quality is aspiration to grow at good return on incremental capital to be invested. Depth of management along with assessment of succession planning plays role envisaging sustainable growth.

Is finding quality at reasonable price much more difficult in the mid-cap and small-cap space? Given the outperformance by mid-cap stocks of late, do you think this will impact long term performance of your funds?
We being growth focused investors the valuations may not play bigger role in addition of mid cap. Over long term the quality of mid cap picked might matter more than the weight of mid-caps, as far as performance is concerned.

You have increased exposure to select chemicals and automobile stocks recently. Why have you done that?
Increase in prices of chemicals due to global industry consolidation and on lower base of prices in recent years is a good catalyst for sector where valuations were lowest. Valuation is not the key reason, but increase in profitability of few of chemical manufacturing chains is the trigger. As far as automobiles are concerned, we believe this is best consumer discretionary to be benefited due to better monsoon and higher pay in government sector and relatively valuations are reasonable. Passenger vehicle segment is consolidating in India in hands of focused players in Indian market.

Are there sectors or stocks that are completely no-go for you? If so, which ones and why?
The stocks and sectors which don't fit in our BMV (Business Management Valuations) framework of investing are no-go for us. The companies with weaker Moat and growth are the ones we tend to avoid. The companies having management / corporate governance issues are avoided as well.

There is one concern amongst many veteran investors that the Indian market remains a small place in terms of investible stocks. The number of good stocks hardly ever crosses 100-150. Many interesting themes prevalent worldwide have no 'play' in India right now. What is your take?
Indian markets is about India 'play'. It's about demographics, rising purchasing power, improving living standards, room to increase individual leverage and aspiration of Indians. We look mostly at B2C companies across staples, discretionary and durables, investment in India is about trying to capture this broader trend. There are many investible stocks available in this space.

We have seen equity MF inflows take a pause after what was an incredible 2015. How do you view the investor sentiment as of now?
After a slight slowdown in the last few months, flows in domestic equity mutual funds rose to Rs 79 billion in August 2016. This is the highest level of inflows since August 2015. At the end of August, Domestic Mutual Funds (DMF) equity AUM stood at $74 billion - its highest level in history. Equity AUM stood at 4.45% of India's market cap. Year to date, flows in equity DMFs stood at Rs 278 billion. We expect increase in domestic inflows driven by falling yield on competing asset classes and expectation of domestic growth recovery. (Data Source: Morgan Stanley Securities)
Telecom/communication sector remains a preferred bet for your funds. Is the worst over for the sector?
Our thesis on Telecom industry is based on
1. Industry consolidation in the hands of strong executors: The industry has been consolidating in the hands of strong executors. The consolidation is due to the cost of doing telecom business in India has been increasing led by high auction determined spectrum prices. Hence, only financially strong executors were gaining market share, while the smaller players seem to be losing out and are currently either on the block to sell or are shrinking operations. The 3 incumbents today have a 73.4% revenue market share in FY16 , up from 65.8% five years ago in FY11.

2. Long term data growth prospects in India: The reality is playing out in line with this thesis. Considering strong data growth prospects there is room for incremental capacity entering the market especially in data.

However, the free voice and data being announced for 3-4 months is expected to disrupt the investment view taken based on economic rationale. This is key challenge the industry is going to face till the "free offer" lasts. There can be no answer to free services in any economic activity and so much so in this case of launch by the new entrant. Eventually, rationality may prevail and looking at economic reality of sector (total capital employed and overall debt of industry), we expect to see more consolidation happening at an accelerated pace. The new entrant has introduced business model driven on data consumption, which is bound to increase data consumption across customer segments. We believe this may lead to increase in revenue for larger data player in the industry. Meanwhile free services till end of December 2016 expect to generate lots of uncertainty. Considering this, we believe the companies with better spectrum footprint (data capacity) and balance sheet will be able to sail through the rough patch.
Infrastructure has always been touted as a long term bet for investors. Yet, the problems plaguing the space are known to everybody. 'Popular' or 'hot' themes often arrive in the market and almost everybody is very sure that these are the next 'multi-baggers'. Since you run a tax fund, caution is probably your first reaction. But how do you avoid such temptations which at least for a short time can gain from 'momentum'?
Our investment theme in Investment part of economy is based on outlook on public sector and private sector capex potential. We believe Private sector capex is unlikely to revive anytime soon due to overcapacity. Infrastructure spend led by government (both state and centre) is expected to drive the growth in this sector. Hence we are positioned to benefit from increased spend in Road, defense sector. Cement is one of the sector which is expected to benefit from increased spend on Infra.

Aviation appears to have a special place in some of your funds. For years, civil aviation stocks have lost money. Fare wars have raged on. Why do you remain so bullish about the space?
Passenger growth in domestic sector has been 20% since last 1-1.5 years. This is helped by both increased business and tourist travellers along with ticket affordability driven by lower crude prices. The sector was consolidating in 2014 when we entered. We believe, incremental demand growth outstripping the supply growth as measured by available seat kilometer (ASK) will be crucial for further returns in the sector.

Mid cap fund managers often say that they adopt a bottom up stock selection when investing in mid and small-cap companies. The stock selection is in companies that are leaders in emerging sectors or should be challenger or consolidator in large sectors. How do you deal with these stocks which may not be coming cheap? Does your midcap stocks investment horizon differ from large cap stocks horizon?

Most often the challengers and consolidators are available at lower valuations if one identifies them early. Leaders are the one which generally trade at high valuations. If leaders are available in sectors which are growing fast and are just emerging, over the long term the valuations would not matter much. Our investment time horizon is similar for all the funds.

What is your mechanism to weed out false starts?
You need to look for not just dividend yield but also opportunities for capital appreciation while selecting stocks. This is exactly what we have done in our portfolio. We don't focus on buying the highest dividend yield stocks in the market. Instead, we select the ones which pay out good dividends and also have the potential to grow. For example, between a company that offers a 10 per cent dividend yield and is not growing, and one that offers a 4 per cent dividend yield and is growing at, say, 20 per cent, we would usually choose the latter. This ensures that capital appreciation also contributes to the returns, apart from the dividend.

How important is safety of the yield than absolute number? Is there a fixed universe of stocks that you always stick to when it comes to dividend yield stocks?
For an investor in dividend yield stock, both safety and absolute number is of importance. Hence, businesses with predictable, sustainable, profitable and de-risked business models form substantial part of portfolio.

When you take positions in dividend yield stocks, is it always about FCF and strong growth prospects?
In my view, dividend yield is a function of two factors. One, the cash-throwing potential of the business and two, how much of that cash the management is willing to return to shareholders. It is useful to look at the cash flow yields of companies rather than merely dividend yield.
Recently, in the case of PSUs, there are proposals for higher buybacks of shares apart from high dividend payouts. In such cases, looking at the free cash flow yield (FCF) or operating cash flow yield may help you identify opportunities even before dividend payouts actually start to go up. Hence, FCF and strong growth prospects are critical factors to evaluate than merely dividend yield.
Lastly, as a fund manager some say you have no 'skin in the game' in the dividend yield fund, mid cap fund and long term equity fund because as per the latest disclosure (Mar 31, 2016 - SID) the 'fund manager' had no investment in scheme AUM. Why don't you invest in your own schemes? Are you against the skin in the game concept, a concept catching up in India?
No comments.