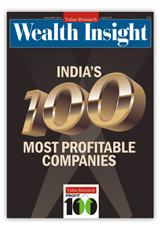 One can rate and rank companies on a lot of different parameters but nothing reveals the truth as deeply as their profit margin. If a company has a long track record of high profit margins, it's much harder for any problems to derail it in the future. With the August 2016 issue of Wealth Insight, we are launching our annual Profit 100: India's Most Profitable Companies. Unlike listings of sales or market cap, this is a selected set which will actually help you as an investor.
That's not all. There's a lot more in this issue that will help you make better investment decisions and generate better returns:
Company Tale: Nirma - the announcement of Nirma acquiring Lafarge's cement assets in India has again turned the spotlight on the company and its founder
Interview: Sanjay Parekh, Senior Fund Manager, Reliance Mutual Fund, tells us about the pain ahead in banking and a lot else
First Page: Dhirendra Kumar explains the logic and the utility of our new Profit 100 study
Market Compass: The power index, buybacks as a shield from dividend tax, the small retail public holdings in big name stocks, and much more
Analyst's Diary: The El Nino/La Nina factor in the Indian economy, what rains in Brazil may or may not have to do with your stock investments, and recession-proof investing
Companies with moats: Our regular updated analysis of Indian businesses with competitive advantages and high barriers to entry
Straight Talk: Anand Tandon explains that microfinance companies may have yet more problems in their future
Main Street: Saurabh Mukherjea thinks that unintended consequences of the crackdown on black money is dampening economic growth
Off Beat: Sanjeev Pandiya writes about the fear that with RBI Governor Rajan's exit, monetary policy may go astray
The Chartist: Devangshu Datta looks at the difficult tasks before the next RBI Governor
Stock Ideas: Read about these investment ideas that you can use now:

Stocks that clear all the essential checks
Attractively-priced blue chips
Stocks with a high discount to book value
Reasonably priced growth stocks
High dividend-yield stocks

Stock Analyst's Choice: Our regular scorecard of the stocks we've recommended since 2011 and their performance.
Click here to subscribe to the printed version, or buy a digital subscription (PDF+online reader) instantly. You can also buy a digital copy of this issue without subscribing.