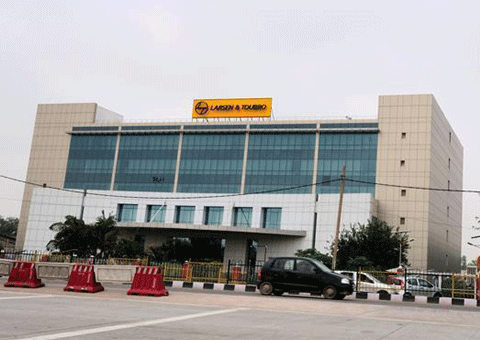 On Friday, Larsen and Toubro Ltd's (L&T's) stock hit a nine-month high of ₹1,595, after outperforming the benchmark indices for the last couple of months.
Bloomberg's consensus on the price-to-earnings multiple forecast for FY17 has risen several notches since April on the back of rising earnings estimates. But this is not alarming, given the host of positive developments in the company over the last few months.
The management decision pencilled several quarters ago to gradually exit non-core businesses has started unfolding.
Last week, it said that it plans to sell about 15% in its subsidiary, L&T Technology Services Ltd. This comes close on the heels of the success of L&T Infotech Ltd's initial public offering, another unit where the parent sold about 10%.
Indeed, these may be a drop in the ocean; considering the huge cash-flow requirement for its engineering and construction business, it has set the wheel of value-unlocking rolling.
That is not all.
The company intends to sell some operational road assets, power and ports, which are losing money.
A Motilal Oswal Financial Services Ltd report dated 14th July, echoes the same sentiment, saying, "these businesses together total losses of about ₹1,000 crore, which, once sold, will add at least 2% to its return on equity".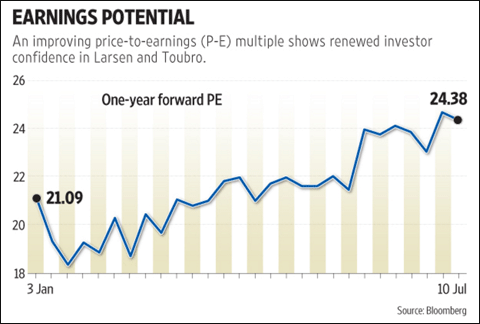 But then, selling loss-making businesses is not a cakewalk and could take time.
There is a leap of faith on the Street. Investors seem to be buying into the management vision that cash flows from better operations and exit from non-core businesses should significantly reduce working capital from current levels. Note that net working capital had shot up from about 17% of sales to 24% in just three years, due to delays in project execution, customer payments, vendor support and so on. The economic revival should also alleviate these problems over the next 12-24 months.
That said, there are concerns still on order inflows and margin trajectory. Order inflows for FY16 shocked the Street, declining 12% from a year ago, unable to meet the management's watered down forecast of flat order inflows. This fiscal, they are likely to grow by 15%. However, a report by Religare Capital Markets Ltd points out that "order inflows are likely to be flat over FY15 levels, highlighting the plateauing of order inflows, given the high base and a weak investment cycle." Analysts are also apprehensive that a shift to Indian Accounting Standards norms can hurt margins.
The macroeconomic clouds are clearing up, what with rising oil prices, a normal monsoon, along with the government's push on infrastructure. This should accelerate order inflows from the Middle East region, where L&T has a presence, and on home ground, albeit a few quarters later.
Until then, a firm focus on executing its existing order book, which is about thrice the current revenue, will hold it in good stead. This is one reason why investors may choose to ignore near-term challenges on project execution and margin weakness. After all, it still remains the best equity play on infrastructure.
In arrangement with HT Syndication | MINT