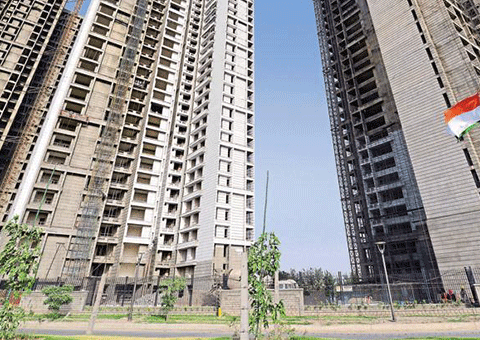 On a blazing hot Saturday afternoon in June, a group of people assembled in a small room in an under-construction building at Today Ridge Residency, Sector-135, Noida, a part of the National Capital Region (NCR) centred around Delhi.
The motley group, with people ranging from senior citizens to software engineers, had one thing in common. Each one of them has parted with a huge chunk of their savings to buy a home, which had not been delivered to them.
Most of them booked an apartment in the project owned by Today Homes and Infrastructure Pvt. Ltd in 2010.
The buyers were assured of delivery in about two-and-a-half years; it has been six years now and most are yet to get possession.
At some other projects by builders such as Unitech Ltd, Amrapali Group, The 3C Company, Gardenia Group and Jaypee Group, the wait for possession has lasted more than eight years.
Rajiv Kumar Goel, who works for a private firm, said he commutes every Saturday for five hours to and from Faridabad to join the group.
"I have to take leave every Saturday to come here and my company cuts that amount from my salary," he said.
Today Homes, The 3C company, Gardenia Group, Amrapali Group and Jaypee Group did not respond to a Mint questionnaire sent a day earlier.
The NCR, India's biggest property market in terms of volume, has numerous projects such as Today Ridge Residency that have been stuck for years, with just concrete structures and minimal work on the ground.
A combination of lack of funds, rising debt, unsold inventory, a trust deficit among customers and incessant litigation have brought the sector to a standstill, with no takers for the flats under construction.
A Knight Frank India report released on 4 July said that new launches in the NCR have been in a decline since 2010 and have dropped by more than half over the last six years.
Property consultant Liases Foras said NCR has witnessed a rise in unsold inventory by almost 14% to hit a high of 267,000 units by the end of March 2016 and it will take around six years to sell them.
The rot began to set in during the early part of the decade. The residential property market touched a high in early 2010 with firms raising loans to enter real estate in pursuit of what looked like an unstoppable boom.
"In the last 4-5 years we saw everyone from every industry come to real estate. Shoemakers and milk packagers, Godrej, Tata and the who's who of the world entered the business. But many of them are stuck now," Omaxe Ltd chief executive Mohit Goel said in an interview.
The sector went from boom to bust in the face of a spate of farm protests and resulting litigation.
Puneet Parashar is a buyer in Amrapali Group's Heartbeat City project in Sector 107, Noida, which has been stuck in litigation after farmers challenged the land acquisition by New Okhla Industrial Development Authority. The Supreme Court, in an August 2013 order, quashed the acquisition of about 547 acres of land, which included two other projects by the 3C Company and Great Value Projects India Ltd, encompassing a total of about 5,000 flats.
While the apex court passed its order in August 2013, the New Okhla Industrial Development Authority, builders and the lenders didn't inform the buyers, who kept paying their dues for a whole year without knowing that projects had actually been declared illegal.
Great Value Projects India Ltd and New Okhla Industrial Development Authority didn't respond to a questionnaire sent to them.
"With the project stuck and the weight of rent already weighing me down, I wasn't able to shell out EMIs (equated monthly instalments) to my bank. Taking the situation into account, I asked my bank for a restructuring of my loan, but they instead sent me a notice. I had to finally sell my property to pay the loan amount," said Parashar of the loan taken from Axis Bank.
Axis Bank didn't respond to a questionnaire sent by Mint.
Low investor interest and lack of cash flow have resulted in ballooning debt at all the major real estate companies, with Jaiprakash Associates Ltd (Jaypee) having a consolidated debt of ₹58,250 crore as of 31 March. DLF Ltd is saddled with a debt of ₹22,202 crore and Unitech weighed down by ₹7,165.7 crore.
"The customer cell here clearly says that they don't have money to finish the project," said Ashish Srivastava, who booked a flat in Noida's Jaypee Kassia project in May 2011 and is still waiting for possession.
Jaiprakash Associates did not respond to a Mint questionnaire.
Many buyers have also accused banks of lack of monitoring while disbursing loans to the builders even when they didn't have clearances and of looking other way when those funds were diverted.
"Unitech has taken ₹180-200 crore from buyers. Later, they told us that they spent only ₹20 crore on the project, which was shocking," said a buyer who didn't want to be identified.
The buyers filed a first information report (FIR) against Unitech for fraud and also named ICICI Bank Ltd in the FIR for lack of monitoring and colluding with the builder in cheating the buyers.
"As per the agreement for the housing loan between ICICI Bank and the customer, the bank has in no way any control over the delivery of the property by the developer. Consequently, the bank cannot be held responsible for any delays. However, the bank is engaging with the builder to explore options to resolve the current situation," an ICICI Bank spokesperson told Mint.
Unitech did not respond to a Mint questionnaire sent on 5 July.
Reserve Bank of India guidelines stipulate that disbursal of housing loans sanctioned to individuals should be closely linked to the stages of construction of the housing project and upfront disbursal should not be made in cases of incomplete, under-construction or new housing projects.
The delay in executing the project has also resulted in large volume of litigation with buyers organizing themselves into associations and approaching the National Consumer Disputes Redressal Commission for better compensation or refund of their money.
"In the last three years, the filings at national commissions have risen three times. People are becoming aware of their rights, they are also exerting their rights," said Sudhir Mahajan, a property lawyer.
The buyers have also staged protests against builders.
"We asked Jaypee to meet us on 11 June but they refused to address the group and insisted on meeting individuals only. When 1,000 buyers gathered together on the set day to demand action, they blocked us from the office and even welded the gates. We blocked the expressway for 40 minutes and finally they agreed to talk," said Nrip Kumar Mehta, one of the organizers of the protest.
The gates of the Jaypee office in Sector 128 today resemble a military outpost, protected by barriers, large gates, barbed wires and a posse of guards to prevent protests on the premises.
"What these builders have been doing is a matter of fraud. They have been raising money on one project and then siphoning it off to another project. Everything is getting stacked up and now it has resulted in this domino effect," said Vivek Chib, a lawyer who has filed several cases against Unitech on behalf of buyers.
While questions about the conduct of banks remain, they have already started the process of recovering their dues from the defaulters. ICICI Bank and Axis Bank have taken over several properties from Jaypee to recover their dues.
The Gardenia project in Sector 46, which is being operated by Gardenia Aims Developers Pvt. Ltd, is an example of the domino effect on the real estate industry.
According to documents seen by Mint, the developer took a loan of about ₹134 crore from a consortium of three banks- Bank of India, Oriental Bank of Commerce and Corporation Bank-but couldn't pay back as the project got stuck due to regulatory issues.
The developer still owes about ₹86 crore to the bank consortium and about ₹250 crore to the New Okhla Industrial Development Authority in land dues.
Gardenia did not respond to a Mint questionnaire.
With loan repayment elusive, Oriental Bank of Commerce, on behalf of the consortium, issued a public notice against the Gardenia project, declaring its intent to take over the asset to recover dues.
The consortium of banks didn't respond to a Mint questionnaire.
This has led to a plunge in the project's value with the existing buyers panicking and attempting to cancel their bookings.
"Clearly the project appraisal mechanism could have been better," said Rajeev Bairathi, head of capital markets, Knight Frank India, adding that around the time banks started to lend, the projects seemed to be doing well.
Some buyers, by staging protests and through constant persuasion, have been able to get the developers to give them possession of their flats, but they have only encountered new problems.
"Jaypee has used very low quality material and has done cost cutting wherever possible. We paid more than a lakh for the club, but nothing is ready and still they are charging us for common area utilization. They have not given us occupancy certificate as well," said Sanjeev Kumar Aggarwal, a software engineer who finally got possession of his flat in Jaypee Klassic, Noida, after a three-year delay.
There are no signs of recovery in the near term. According to the 4 July report by Knight Frank India, residential unit prices in NCR fell 4% in the first half of 2016 and are expected to keep falling for the rest of the year.
This will further increase the financial strain on developers struggling with a cash crunch.
Some buyers, however, want to take matters into their own hands and finish projects by pooling money.
"Banks should let us build ourselves because Unitech doesn't have either the willingness or the capability to complete the project. We are ready to help ourselves if administration allows us to do that," said Vibha Bhatra, a buyer of a flat in Unitech E-space, Gurgaon, which has been under construction since 2011.
In arrangement with HT Syndication | MINT