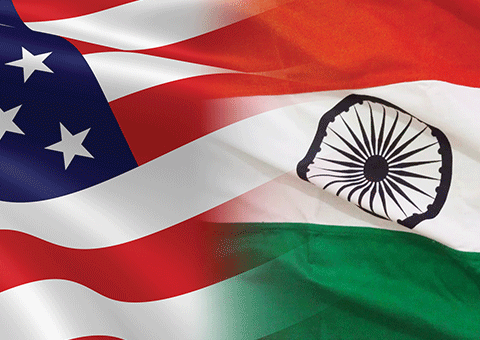 In his recent shareholders' meeting that was beamed worldwide, legendary investor Warren Buffett had a swadeshi message to convey to American investors: 'Don't let highly paid consultants talk you into international investing. Bet on American businesses and stick to them'.
He had made the same point in his 2015 shareholders' letter: "For 240 years it's been a terrible mistake to bet against America, and now is no time to start. America's golden goose of commerce and innovation will continue to lay more and larger eggs. America's social-security promises will be honoured and perhaps made more generous. And, yes, America's kids will live far better than their parents did."
So should Indian investors who like to play by Buffett's rules shun international investing, too? Not really. In fact, they should probably be following Buffett's advice to the letter and betting on some American companies.
But why? Isn't India the fastest-growing economy in the world? Well, that may be so. But as the performance of US equities in the last ten years demonstrates, Indians may have three good reasons to diversify into US stocks.
Dollar effect
Indian investors may be surprised to know that if they had bet on US stock markets via an index fund, their returns would have beaten an Indian index fund over the last one, three, five and even ten years. Don't believe this? Just make a like-to-like comparison of returns between an investment in the BSE Sensex and the Dow Jones Industrial Average (DJIA), with the latter translated into rupees. In the last one year, while the Sensex is down 3.7 per cent (all returns as of April 30, 2016), an Indian investor's bet on the DJIA would be up 6.8 per cent. Over three years, the compounded annual return is 11.2 per cent on the Sensex versus 16.8 per cent on the DJIA. Over five years, the DJIA in rupee terms managed 18.7 per cent against the Sensex's mere 7.7 per cent. Finally, over the last ten years, the DJIA has trounced the Sensex by about 2 percentage points a year - 11.6 per cent versus 9.4 per cent.
Unfortunately, very few Indian investors would have actually bet on US stocks ten years ago. India has only a handful of equity funds that invest in US equities and all of them have a pretty short track record. But these funds (both feeder and non-feeder) have managed better returns than our domestic large-cap funds in the last three years. Motilal Oswal Nasdaq 100 ETF sports a three-year return of about 21 per cent; ICICI Prudential US Bluechip, 16 per cent; Franklin Feeder US Opportunities, 16 per cent; and DSP BlackRock US Flexible Equity, about 14 per cent. Large-cap equity funds have averaged a 12 per cent return in the same period, while the Sensex and Nifty have managed about 8 per cent each.
US equity investments have outperformed Indian equities in recent years mainly because of the exchange-rate effect. The relentless gains in the dollar vis-a-vis the rupee amid a slowing global economy has helped returns for Indian investors who took on dollar exposure. The rupee, which traded at 45 to a US dollar five years ago and 54 to a dollar three years ago, today changes hands at 67 to a dollar. Over a five-year period, therefore, the depreciation in the rupee has added as much as 47 per cent to the absolute returns of Indian investors in US funds. That is about 9 per cent every year!
Innovative businesses
But even if you exclude the exchange-rate effect, returns from US stocks do not look all that bad, considering that the US is a mature market. Had the rupee held steady against the dollar, the returns for Indian investors in the DJIA would have been 2.3 per cent for one year, 8.8 per cent for three years, 9.5 per cent for five years and 7.3 per cent for ten years. The five-year returns are actually better than those from Indian equities, while ten-year returns are lower by 2 percentage points. This is because even though the Indian economy has grown much faster than the US economy in this entire period, there have been some innovative, world-class US firms that have delivered strong earnings growth, with stock-price gains to match. The stock prices of DJIA constituents, such as Home Depot, Disney, Microsoft, Travelers and 3M, have surged anywhere between 75 and 268 per cent in the last five years.
No matter how swadeshi we may be, we have to admit that India has produced no match for innovative tech giants like Google or Facebook, industrial names like GE or 3M or even consumer brands like Disney or Mastercard. These are the kinds of stocks that have helped bottom-up investors in the US markets, like Warren Buffett, deliver double-digit returns in the last five years.
Then, there are the sectors and businesses that are not even represented in the Indian listed space that one would like to own. While new-gen firms from sectors such as e-commerce, consumer tech are yet to make a debut in domestic markets, they are aplenty in the US. Who wouldn't be tempted to bet on Alphabet (erstwhile Google) at 30 times or Apple Inc at ten times?
Better valuations
If you're a value investor, you may find better bargains in the US markets, too. Despite its gains over the last five years, the US bellwether (the DJIA) today trades cheaper than the Sensex on a trailing price-to-earnings basis. While the Sensex is at a P/E of nearly 20 times, the DJIA is at 17 times.
True, the Indian market always appears cheaper on a forward basis, given that analysts never tire of projecting that Sensex earnings will grow at 15-20 per cent next year. But such projections haven't been met repeatedly for the last three years, and, therefore, you may like to factor in lower growth rates and, hence, a higher P/E for India.
Even if the valuation gap between the Sensex and the DJIA isn't all that wide, Indian investors may find many world-class US businesses available at surprisingly reasonable valuations.
For instance, the entire set of FMCG consumer names which have been bid up to sky-high valuations in India are far cheaper in the US. Indian FMCG firms such as P&G Hygiene (61 times), Nestle India (108 times) and Hindustan Unilever (45 times) trade at many times the valuations of P&G US (21 times), Nestle SA (21 times) or Buffett's favourite Coca Cola (22 times).
In fact, even among the industrials, US parents of the fancied Indian MNCs trade at a huge discount to their Indian offspring. 3M Inc, at 21 times in the US markets, is positively mouth-watering compared to 3M India's P/E of 100.
Diversify
All the above numbers though aren't an argument to make wholesale switches in your portfolio from Indian equities to US equities. If you're an optimist (and a contrarian), you may well believe that the next ten years will be very different for the Indian market than the previous ten years. The dollar may lose its mojo and the rupee regain it, the domestic business cycle may lift off and take the stock market with it. Or corporate earnings may get back to 15-20 per cent growth, helping Indian equities outperform. But if you're just a little bit sceptical about all this and would like to buy some insurance for your portfolio, parking 10 per cent of your portfolio in US equity funds is a great idea.