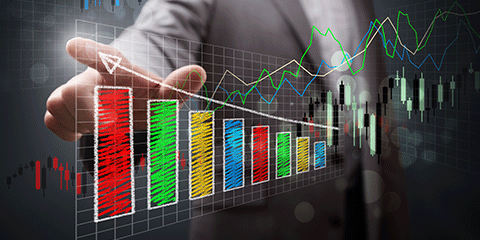 A high dividend payout (dividend as per cent of net profits) is generally seen as an attribute of a mature company. It means that the company retains less for its growth and pays out most of its earnings. A high payout in a single year could be frequently seen but only established and mature companies can sustain it on a long-term basis. Established companies don't need much capital expenditure for future growth and hence prefer to distribute high dividends to their investors. If you are thinking of investing in some company due to its high dividend payout, you must, however, see not just the payout but also historical return on equity.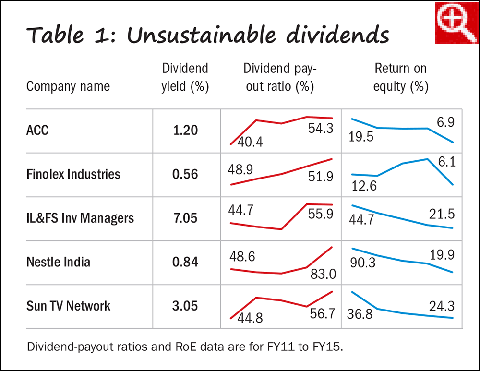 A high dividend payout keeps the return on equity relatively high if margins remain intact. This is simple mathematics. When a major part of income is distributed as dividend, less profits are retained. Retaining less profits keeps a company's equity (shareholders' funds) low, which translates into a high return on equity. However, only mature businesses with established brands can generate constant growth in earnings, retain less earnings, pay high dividends, and have high or stable returns on equity, all at the same time.
If RoE is constantly falling despite a high dividend payout, that means the company is losing its steam. And if the fall in RoE continues for a long time, then sustaining a high dividend is difficult. The company either needs to improve its efficiency or will have to reduce the dividend payout to spend more on capital investments.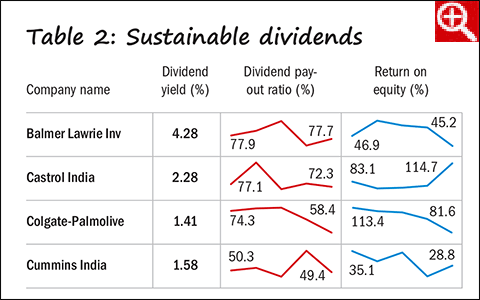 Table 1 gives you the companies which have consistently high dividend payouts in the past five years but the RoE is falling. Therefore, these companies will have to either improve their efficiency or cut down their payouts. Table 2 shows the companies which have historically high dividend payouts and can maintain those in the future as they are able to maintain their efficiency in terms of RoE. These companies could be ideal for dividend investing.