With the moves in interest rates becoming almost as unpredictable as swings in the Sensex, plain vanilla debt funds such as gilt funds, income funds and so on have struggled to earn consistent returns in the last three years. Dynamic bond funds, which give their fund managers the flexibility to shift quickly between short- and long-term bonds or switch between G-secs and corporate debt were expected to be a solution to this problem and function like diversified funds in the equity category. But the performance of this category shows that not all players have proved savvy at navigating the volatile debt markets. The significant return divergence in the category is ample proof of this.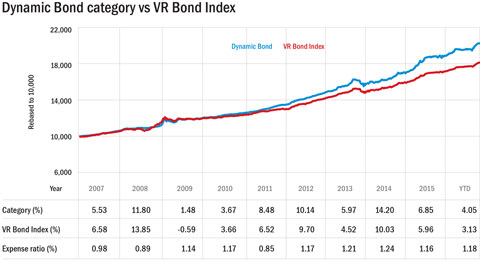 Taking stock of the 23 dynamic bond funds that make up the category, five-year returns have varied between 7.8 per cent and 11.1 per cent for different schemes. Three-year returns are no better, with the range at 5.3 to 12.1 per cent. On an average though, the category has managed returns of 9.4 per cent on a five-year-CAGR basis and 8.1 per cent over three years.
Dynamic debt-fund managers' views on interest rates are obviously quite divergent, with the average maturity of these portfolios varying anywhere from three months to 20 years! Apart from the manager's track record in navigating volatile rates, investors must definitely consider the fund's expense ratio: the most-expensive fund in the category charges 2.4 per cent! In many cases the differential costs between retail and direct plans have made a difference even to the star rating of the fund.
We recommend the following dynamic bond funds: