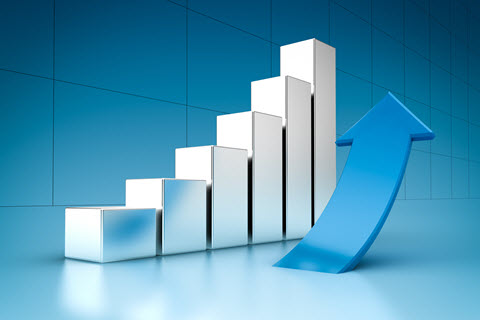 Indian companies reported their best set of quarterly earnings in the past few quarters in the January-March period, and if the trend continues, an earnings recovery may be on the horizon, say analysts.
While aggregate sales growth for the companies was the best in six quarters, their net profits collectively grew at the fastest pace in eight quarters.
A Mint analysis of 309 of BSE 500 firms, for which comparable data was available for at least 24 quarters, showed that net sales rose 6.58% year-on-year in the March quarter. This was the best since the quarter ended December 2014.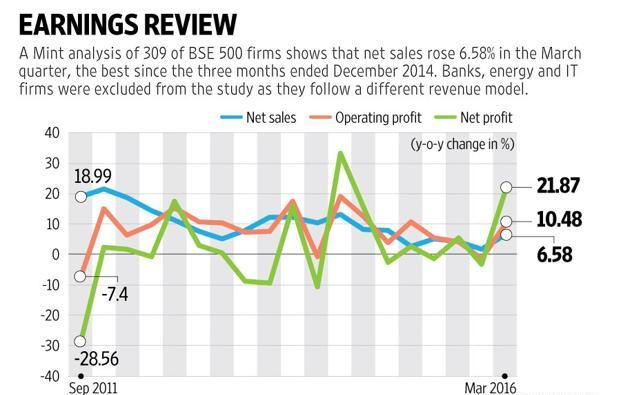 Banks, energy and information technology firms were excluded from this study as they follow a different revenue model. Also, companies such as Tata Steel Ltd, Vedanta Ltd, Jaiparakash Associates Ltd and Ashok Leyland were excluded as they had substantial one-time write offs in the March quarter. Cox and Kings Ltd was excluded as the results were not comparable with the previous quarter due to the sale of its camping division.
"Top-line growth has moderately revived, and this is attributable to recovery in commodity prices, along with higher government spending and currency depreciation," said Dhananjay Sinha, head of research at Emkay Global Financial Services Ltd. "The negative impact of lower commodity prices that we saw on revenues in previous quarters is now receding."
Operating profits and net profits for this set of companies climbed 10.48% and 21.87%, respectively. Operating profit growth was the highest since the March 2015 quarter, while net profit growth was the best since the quarter ended June 2014.
The impact of lower raw-material costs is ensuring robust margins for a number of firms. Operating profit margins for this sample stood at 21.71%, the second highest in seven quarters.
Commodity prices rose in the March quarter, but had fallen in the preceding quarters and the impact on the raw-material costs of a company usually shows up with a lag, due to a build-up in inventories.
The Bloomberg Commodity Index of 22 raw materials, from oil to metals, rose 0.34% in the March quarter but fell 20% during the year ended 31 March. The index has risen 8.42% since then. "If the rise in commodity prices continues, the margin expansion will come down. Demand scenario should improve from here on for the earnings recovery to sustain," added Sinha.
One striking feature during the earnings season has been the better-than-expected performance from heavyweights such as Reliance Industries Ltd, Tata Consultancy Services Ltd and Tata Motors Ltd.
"In Q4, after a long lean phase, we have seen a growth in corporate earnings. This is partially driven by low base effect in the same quarter of the previous year. Also, there has been an improvement in urban demand and the commodity prices have bounced back from extremely low levels," said Gaurav Dua, head of research at Sharekhan Ltd. "All this is collectively aiding the recovery in earnings."
Dua believes the improvement in earnings is going to be sustainable and gradual in nature. Among individual sectors, it has been a mixed bag for auto sector. The net profit of Tata Motors Ltd, the country's largest auto maker, multiplied three times and beat analysts' estimates, helped by Jaguar Land Rover sales in Europe and China.
Net profit for India's largest utility vehicle and tractor maker, Mahindra and Mahindra Ltd, in the March quarter rose 6% from a year ago on strong sport utility vehicle (SUV) sales, but fell short of market expectations.
Car maker Maruti Suzuki India Ltd's profit fell 11.7% in the January-March quarter on higher tax outgo and production loss because of violent protests by the Jat community near its factory in Haryana. That profit drop was the steepest in two years. The results were in line with analysts' estimates.
Among the core sector companies, Larsen and Toubro Ltd outperformed. The country's top engineering and construction firm reported a higher-than-expected 18.55% increase in net profit for the quarter, helped by higher sales in eight of its 10 business divisions.
Sajjan Jindal-led JSW Energy Ltd on Wednesday reported an in-line 6% decline in net profit for the March quarter, owing to higher interest costs and depreciation charges related to its hydropower asset acquisitions.
Cement maker ACC Ltd said first quarter profit fell 4% on higher tax expenses and lower other operating income. Ambuja Cements reported a 4.4% decline in net profit due to lower price realization and higher expenses. The profit was still above Bloomberg estimates.
Of the sectors not included in the study, banks were the worst performers in the March quarter. Publicly traded banks in India endured the worst six months since March 2001, Mint reported on Monday, as they reported the fastest accretion of bad loans, mounting provisions and loss of capital in the two quarters to 31 March as the Reserve Bank of India forced the lenders to adequately disclose soured loans and set aside more money to cover for them. As a result, the aggregate profit of 38 listed banks that have reported their earnings so far fell by 66% for the year ended 31 March.
IT firms' earnings were a mixed bag. Sector leader Tata Consultancy Services Ltd (TCS) reported a revenue growth of 11.9% in constant currency terms for the year-ended March, slower than industry body Nasscom's growth estimate of 12.3% for the country's $150 billion outsourcing sector.
On the other hand, Infosys Ltd reported a better-than-expected 1.6% rise in fourth-quarter dollar revenue over the December quarter. It expects dollar revenue to grow between 11.8% and 13.8% in the current fiscal year.
Energy giant Reliance Industries beat analysts' estimates and reported the highest net profit in over eight years as falling crude oil prices boosted refining and petrochemical margins.
In arrangement with HT Syndication | MINT