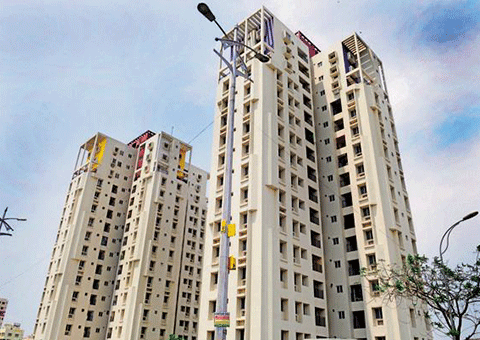 Indiabulls Asset Management Co. Ltd has launched its second fund, aiming to raise up to ₹1,000 crore from domestic investors to invest in residential projects in key property markets.
Indiabulls High Yield Fund, the second real estate-focused fund from Indiabulls Asset Management, plans to raise ₹500 crore along with a greenshoe option of raising an additional ₹500 crore over the next six months, and deploy the capital in less than a year's time.
The new fund has got a sponsor commitment of ₹50 crore from Indiabulls Housing Finance Ltd.
Indiabulls Asset Management is a unit of Indiabulls Housing Finance.
Unlike the first fund, which offered debt to developers, Indiabulls High Yield Fund is a structured debt fund that incorporates an equity kicker as well. The new fund includes a fixed internal rate of return (IRR) of 16-17% along with an equity upside, where the latter will be higher in case of sales price increase or higher sales in a project. Combining the two, the fund aims to achieve a cumulative IRR of 23-24%.
"Apart from Mumbai and NCR (National Capital Region centred around Delhi), we will also evaluate deals in Hyderabad, Chennai and Pune and invest in projects that are either under construction or slightly more early stage, where approvals are already procured," said Ambar Maheshwari, chief executive-private equity, Indiabulls Asset Management.
With most real estate-focused private equity funds offering pure debt today, there is a tremendous amount of downward pressure on lending rates. This is pushing some funds to either incorporate some amount of equity or lean towards a more structured arrangement, which involves a bit more risk but also ensure better returns.
Indiabulls ventured into the real estate private equity business in February last year, when it launched its Indiabulls Real Estate Fund, a ₹500 crore pure-debt fund, with a ₹100 crore greenshoe option.
So far it has invested in four transactions-₹125 crore each in Shree Naman Group and Sheth Creators Pvt. Ltd's projects in Mumbai, and ₹100 crore each in Supertech Ltd and Vatika Group projects in NCR. The fund is in the process of closing its last deal, a ₹120 crore investment in a residential project in southern India.
"Deployment of capital is a massive challenge when a sector faces a slowdown. As a fund manager, we take a top-down approach, where we first look at the quality of the developer, followed by the scale and size of the firm and then evaluate the location and project specifics. Due diligence takes longer than usual in such a scenario, and we have been particular about staying away from both ultra-luxury and low-cost housing projects," said Akshay Gupta, group executive head and chief executive officer, Indiabulls Asset Management.
This year is turning out to be quite critical for real estate fund-raising, with many private equity funds on their way to raising more than $4 billion from overseas investors for real estate projects, according to Mint research.
"Fund-raising scenario remains similar as last year, and continues to be fairly tough. Both overseas limited partners and domestic HNIs (high net-worth individuals) now give significant importance to the quality and past performance of the fund manager," said Shashank Jain, partner, transaction services, PricewaterhouseCoopers India.
In arrangement with HT Syndication | MINT