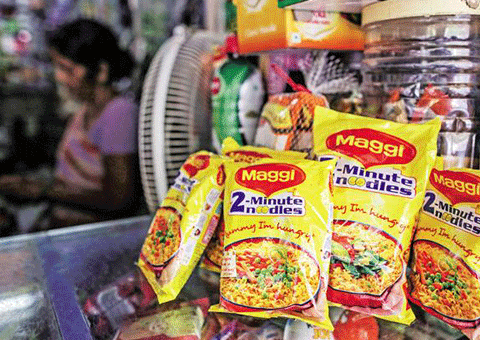 Maggi issues are waning for Nestle India Ltd. Three weeks ago it released a statement that after the relaunch, Maggi noodles are again the category leader with 50% market share. That is evident from the March quarter financials as well.
Sales declined just 8.4% year-on-year in the March quarter. That decline was lower than the 24% fall seen in the quarter ended December and 32% drop in July-September. Maggi's masala variant was reintroduced in November and the chicken flavour only in February.
Operating margin has also improved by 3.5 percentage points sequentially. However, it is still one percentage point below the year-ago number. The sequential improvement in margin came about mainly because employee benefits and other expenses didn't grow at the same pace as sales. It was also up despite an increase in material costs, which made up 42.78% of sales, up 1.5 percentage points from the quarter ago.
The improvement in sales and margins is a positive development, but there is some way to go before investors embrace the stock wholeheartedly. While Maggie has been relaunched, note that there is still the matter of the government's pending appeal in the Supreme Court on the Maggi issue.
It is also time that Nestle India increased focus on its three other segments, which make up close to 70% of its sales. Over the past couple of years, the company's volume growth in segments other than Maggi has declined. Volumes in the milk products and nutrition segment are down for four straight years; in beverages and chocolates, volumes are down for two years.
In an inflationary environment, Nestle India could perhaps afford to not focus on volumes and still grow sales and profit. Now, that luxury is no longer there. It also has to be seen whether the firm retains pricing power in an increasingly competitive market-with the likes of Patanjali in the noodles market, for instance.
As this column has noted previously, Nestle India has become more aggressive in the market with price discounts on some categories to drive sales growth. It has so far not affected operating margins. But the March quarter has seen an increase in material costs (as a proportion of sales) and there is a gradual increase in rates of commodities such as palm oil. So, there is less room available to be aggressive on prices as well.
To be sure, the decline in inflation and a pickup in urban consumption augur well for Nestle India, whose products are largely urban-centric. But investors seem to be waiting for volume growth to pick up across categories. The stock is still 5.7% below where it was on the day of Maggi's relaunch compared with a 1.6% decline in the S&P BSE FMCG index.
In arrangement with HT Syndication | MINT