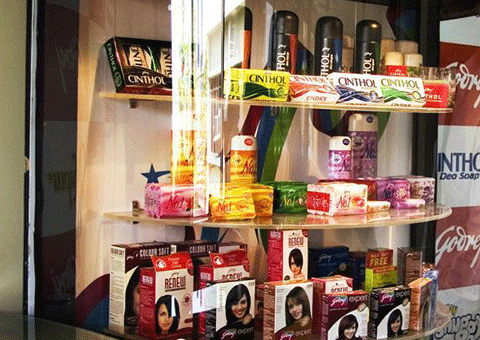 Godrej Consumer Products Ltd (GCPL), the maker of Cinthol soaps and Hit insecticides, will earn more than half its revenue from international operations by the end of the first quarter of this financial year.
The anticipated shift in the company's revenue is the result of its steady acquisition of more than a dozen companies around the world over the past 10 years.
At the end of fiscal 2016, revenue from international operations accounted for 47% of its overall revenue of 4,748 crore. This will rise to more than 50% by the end of the June quarter after the company acquired US-based hair care company Strength of Nature in April, according to GCPL managing director Vivek Gambhir.
The company, which had so far described its expansion strategy as 3x3-a focus on three emerging markets, Asia, Africa and Latin America, and three categories, hair care, home care and personal wash-is now looking to become a global leader in segments such as insecticides and hair care.
"The 3x3 strategy is now evolving to have a category overlay being super-imposed on top. Our platform is giving us the right to think globally of a couple of categories where we have the strength and the starting position," said Gambhir.
With Strength of Nature, the company will look at new markets such as the Caribbean and the US to service the hair care needs of women of African descent.
"We could look at more brand acquisitions in the US in the wet hair space and also dry hair or hair extensions market as well to build our presence there," said Gambhir, adding that these categories are fairly under-penetrated.
Most Indian mid-size packaged consumer product companies such as Dabur India Ltd, Marico Ltd and GCPL started their international expansion by looking at emerging markets, where their skills of working with general trade were easily transferable. For instance, international operations account for close to a third of Dabur's consolidated revenue. Within this, West Asia and Africa contribute nearly 40%. Likewise, Marico, which only operates in the emerging markets of Asia and Africa, gets about 22% of its overall revenue from these markets, said Saugata Gupta, managing director, Marico.
However, globally large consumer packaged goods companies such as Procter and Gamble and Unilever Plc are vacating segments that are not core to them and focusing on just a few big segments.
"The expansion to dominate niche global categories makes sense for Indian companies," said Abhishek Malhotra, partner, Asia Pacific, who leads AT Kearney's consumer industries & retail products practice for India.
GCPL is also looking at growing its Africa business, with plans to put in place a new organization structure in the continent. Last month, the company brought in Prashant Chacko as head of marketing from Unilever Africa to set up an Africa headquarter. Currently, the company has three hubs in Africa-East Africa, West Africa and South Africa-with cluster heads. Africa contributes 33% to GCPL's global revenue, a tad lower than the 35% contributed by Indonesia, its largest geography.
For GCPL, acquisitions have aided both the top line and bottom line. The stand-alone India business has grown at a compound average growth rate (CAGR) of 19.45% over the past decade in comparison to the 26.08% CAGR growth for the consolidated business. Profit for the stand-alone India business has grown at a CAGR of 19.23% over the past decade, lower than the 22.39% for the consolidated business for the same period, according to Capitaline, a financial data services company.
But not everyone agrees with the strategy to focus overseas.
"FMCG (fast-moving consumer goods) companies have just been tinkering with their portfolios and doing relaunches. Look at what companies like Patanjali have achieved. There is a lot of scope to grow here as well," said Anand Ramanathan, director at KPMG India.
Across its India business, GCPL has diversified from an insecticides, soaps and hair colour company to a home and personal care (HPC) company. In the next five years, it is looking at becoming one of the top three HPC companies in India. Currently, it is among the top six.
The growth in India will be driven by increasing penetration, advertising and new categories expansion, said Gambhir.
The company reaches more than 1 million outlets directly and is present in more than 60,000 villages with a total reach of over 4.5 million outlets.
"Over the next 3-4 years, our direct reach will be 1.4 to 1.5 million outlets," said Gambhir.
In the past three years, GCPL has diversified into new categories such as air fresheners, which account for 6% of its revenue.
In arrangement with HT Syndication | MINT