Value Research's small-cap category has 18 small-cap funds, managing total assets of ₹17,646 crore. After a stellar run between 2011 and 2014, small-cap funds have suffered setbacks in the past one year in the market fall. One-year returns (as of February 29, 2016) are now in a negative territory, at -12.3 per cent. But funds have still fared better than the small-cap benchmark by a significant margin. In fact, the three-year return is twice that of the BSE SmallCap Index.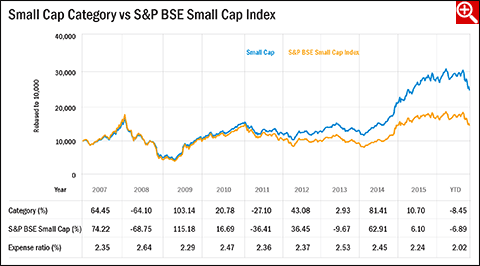 This kind of outperformance has been made possible due to the vast universe of stocks and sectors available for investment, out of which fund managers have consciously selected quality firms. The fund preference for safe names is evident in the high portfolio P/Es, even after the market fall. The average portfolio P/E of the category was 21.6 times by end-February, not much lower than that of the Sensex/Nifty. Given the volatility in small caps, SIPs have worked better than lump-sum investments in the last five years, with SIP returns averaging 19.5 per cent and absolute returns 16.6 per cent CAGR.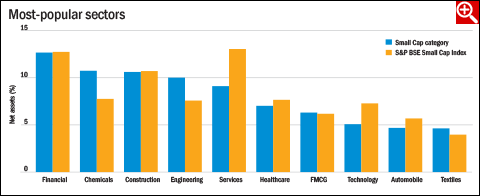 Most popular stock holdings
Despite the category demonstrating its ability to manage market volatility in the last five years, small-cap funds still face liquidity risks and impact costs. This is why the most successful funds in the category have taken to capping lump-sum inflows during overheated markets (read last couple of years). It is this cap which has kept the maximum fund sizes limited to ₹2,500 crore for the category toppers, even after the tearing run in small caps in the last five years.
We recommend the following Small-Cap funds: