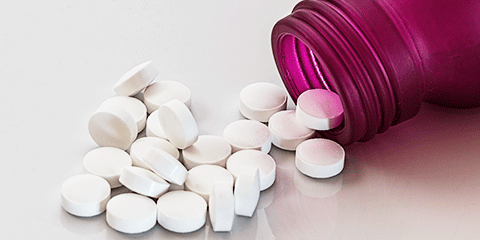 Pharmaceutical stocks were under fire on Tuesday, with the BSE Healthcare index down 3.01%. Market research agency AIOCD Pharmasofttech AWACS Pvt. Ltd said domestic sales will fall by an estimated 4.5% due to three developments-the government's decision to ban 344 fixed dose combination (FDC) drugs, price revision of existing drugs under price control and a revised 2015 list of drugs under price control.
The ban on specified FDCs can result in a cut of 3.1% in industry sales. Pfizer Ltd has already challenged this decision and obtained an interim stay. If other affected companies challenge the decision, the ban may be subject to a legal battle. However, more trouble is already brewing. A news report dated 15 March on The Times of India website says the government may ban another 500 FDC drugs. That may see an even bigger cut in revenues.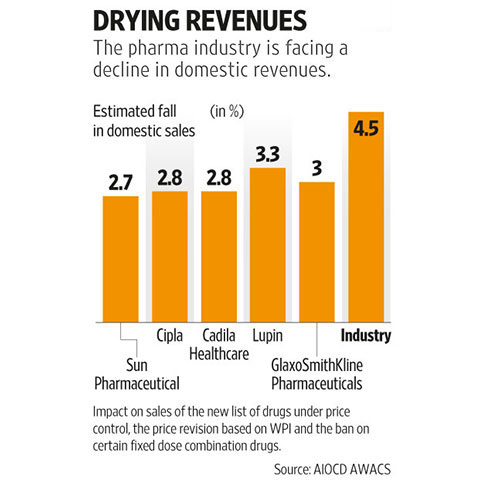 A fair bit of disruption appears to be in store for domestic pharmaceutical companies. The banned drugs are likely to be replaced by alternatives since patients will need cures. The lost revenues may be recouped although those who have ready alternatives may benefit more.
The updated list of drugs under price control is estimated to result in a cut of 0.9% in revenues. Also, the annual price revision based on the Wholesale Price Index (WPI) is estimated to cut revenues by another 0.5%. Few would have anticipated, when this method for increasing prices was decided, that wholesale prices would decline. What's worrying is that current trends suggest that WPI-based inflation may remain low for a longer period, which does not augur well for price increases next year as well.
What is the company-level impact of these developments? The cumulative impact is about 3% of revenues for large listed companies ( see chart). Among others, Pfizer is estimated to take a hit of 15.4%, while Glenmark Pharmaceuticals Ltd's domestic sales are expected to take an 8.2% hit, mainly due to the FDC ban impact. Companies with a US market presence are typically less dependent on India, but slower US sales growth has made India more important to their performance.
Investors appear worried. Large pharma stocks declined on Tuesday, by about 2-3%. Lupin Ltd's share fell by 7.6% as its Goa plant got nine observations from the US Food and Drug Administration. The seriousness of the observations is not yet known but investors are not taking chances.
The decline in healthcare shares reflects investor concerns about the likely impact on earnings. The long-term picture for pharmaceutical companies remains good. In the medium term, however, a lot depends on their ability to get the US sales growth back on track. Failing that, the effect of events such as the above mentioned ones may have a magnified effect on their shares.
In arrangement with HT Syndication | MINT