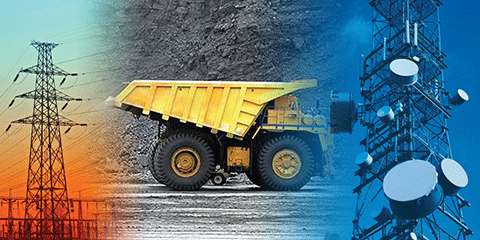 We all hear about those capex (capital expenditure) programmes that India Inc. announces with much fanfare. Have you ever wondered what industries require the most investment in capex? We set about to look at the top industries that have announced capex plans since FY05 and here are the results.
The power sector tops the list of capex intentions sanctioned by banks over the last 11 years, cornering a massive 34.5 per cent of all capex sanctions in this period. Of course, keep in mind that this sector is dominated by public-sector enterprises and the three main power-sector companies Power Grid Corporation of India, National Hydroelectric Power Corporation (NHPC) and National Thermal Power Corporation (NTPC) announce capex programmes that dwarf those of private-sector power companies. In fact, it is a common feature that fortunes of the sector are a function of the capex orders given out by these three industry heavyweights. To give you an idea of the kind of investments that these companies commit to, consider this: these three companies announced capex investments to the tune of ₹54,910 crore for 2015-16. That's right on the back of ₹51,425.84 crore invested in 2014-15.
Metal and metal products is the second biggest capex-requiring industry. Metal and mining companies have cornered 20 per cent of total capex sanctioned in the last 11 years. But this was on the back of a commodity boom driven by unprecedented demand from China. With China slowing down and prices of many metals crashing, some to even half of their peak prices, the sector will feel the heat. And it already has started to. If you look at the table in this story, you will see capex sanctions for metals and mining companies are now at 11-year lows (FY15). How bad will the sector get burnt? Only time can tell. The only company in the sector that is still going all guns blazing with its capex programmes is Coal India, with its estimated ₹60,000 capex plans for the next five years.
The third biggest capex spender is the telecom industry, with 7.7 per cent of all capex sanctioned in the last 11 years coming from this sector. Rapid expansion in network, especially for the data services rolled out over the last couple of years, including the roll-out of 4G, even before the entire country was 3G enabled, has kept telecom companies on their feet. The top three telecom companies, Airtel, Vodafone and Idea, for instance, have announced plans to invest over ₹30,000 crore this financial year to roll out 4G and strengthen their existing 3G networks. The new entrant Reliance Jio is reported to have invested ₹1 lakh crore towards tower installations and network expansions alone.
Other top capex-requiring sectors include construction, textiles and cement. The table shows how various industries stack up on capex requirements.