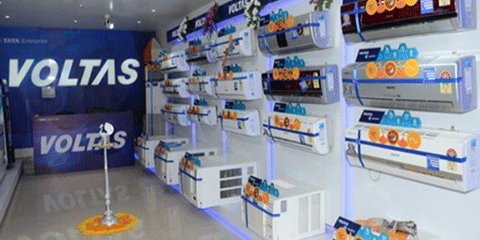 Shares of Voltas Ltd, a capital goods firm from the Tata Group with a strong presence in the air conditioning market, closed 4% higher on Friday.
The trigger is perhaps the strong indication of a better year for retail air conditioner sales.
This segment accounts for half the revenue clocked in its domestic operations. Dealers say sales in January were better than what it was last year, and discounts were lower, too.
A recent report by Prabhudas Lilladher Pvt. Ltd says that in a recent exhibition on heating, ventilating and air conditioning, manufacturers were showcasing new products or energy-efficient variants, optimistic of good sales in the coming summer.
Last year's inventory pile-up, due to a less severe summer, had been drawn down during the October-November festive season.
Meanwhile, the sales of larger commercial air conditioners used by hotels, retail stores, educational institutions and offices are hotting up, too. Together, the segment, which is called the unitary cooling products (UCP) division, has shown decent growth. Voltas's market share rose by about 300 basis points over the last two years. One basis point is one-hundredth of a percentage point.
Unfortunately, the company's engineering and electro-mechanical projects (EMP) businesses have been the spoilers for some quarters in the recent past. Voltas' significant presence in the international markets, especially in the Gulf, marred performance due to delays in project execution and payments.
The EMP segment even posted a loss in the December quarter, faring worse than the Street's expectation. Add to this weak order inflows: a situation that is unlikely to change in the near term with the low oil price raising concerns regarding capex in these regions.
On home ground, too, it may be a while before large industrial and infrastructure orders pick up. The Index of Industrial Production (IIP) for January declined more than anticipated, led by weakness in manufacturing. Like most companies in the capital goods pack, Voltas, too, will see gains in the last leg of the capex cycle, as that is when its products are installed.
But, on the whole, there's a spark of investor confidence in the firm on account of improving sales in the UCP business. It will continue only if the other project segments' performance is not threatened.
In arrangement with HT Syndication | MINT