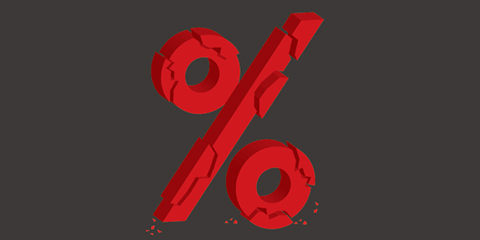 The ability of Indian firms to pay interest on their loans continued to deteriorate in the December quarter and there is more pain left for banks that have outstanding corporate loans, Credit Suisse said.
In a report released on Thursday, Credit Suisse showed a slight decline in corporate health, with the share of debt having interest coverage ratio (ICR) less than 1 increasing to 41% in the December quarter, compared with 39% in the preceding quarter. Also, the share of chronically-stressed firms-those with ICR less than 1 for four of the past eight quarters-rose to 33% from 29% in the preceding quarter.
ICR is a ratio of debt and profitability used to measure a firm's ability to service its debt. The lower the ratio, the more difficult it is for the firm to pay interest.
Thanks to weaker operating performance-as seen in the 1% year-on-year fall in earnings before interest, taxes, depreciation and amortization (ebitda)-aggregate interest rate cover declined to 2.2 times, Credit Suisse said, despite interest cost declining 4% year-on-year.
Rakesh Rawal, chief executive of private wealth management at Anand Rathi Financial Services Ltd, is hopeful things will start looking up in some time.
"Profits have been declining, and they, in turn, impact debt servicing ability," said Rawal. "I think this is a question of when the business picks up, which should hopefully happen in next one year, and the situation will start improving."
Credit Suisse acknowledged while the recognition of stressed assets has picked up after the Reserve Bank of India audit in December, as gross non-performing assets rose from 4.9% to 6.2% from the preceding quarter, it believes unrecognized stress remains high at around 6%.
Metals, infra worst hit
The share of metals firms in the league of firms with poor debt servicing ability is rising as the Chinese economic slowdown has led to a steep fall in industrial metals worldwide. The infrastructure sector also faced the heat, as some firms were highly leveraged, and projects were yet to gain traction.
The earnings of most metal firms took a hit during the quarter as prices dropped globally. Hindalco Industries Ltd's stand-alone net profit fell 89% in the December quarter because of lower price realizations. Tata Steel Ltd posted a fiscal third-quarter loss that was far wider than analysts' estimates as the country's largest steel maker took one-time charges, mostly related to its European assets, and cheaper imports from China weighed on profits.
On the infrastructure and capital goods front, state-run power equipment maker Bharat Heavy Electricals Ltd (Bhel) reported a stand-alone net loss of Rs.1,101.99 crore for the quarter to December on higher expenses and lower revenue.
Market capitalization at Larsen and Toubro Ltd, the country's largest engineering and construction firm, has declined about 30% since last April. After its dismal results in the December quarter, analysts cut its earnings estimate for FY16 and FY17, translating into a steep 18-21% downward revision since April.
"Metal firms will take a little longer to recover as it depends on when the price points improve for them. However, for infrastructure companies, things should be faster. The kind of projects being announced by the government, if they take off as expected, things will start looking up for infra companies," added Rawal of Anand Rathi.
According to Ajay Bodke, chief executive and chief portfolio manager-portfolio management services, at securities house Prabhudas Lilladher Pvt. Ltd, higher government expenditure on the capex front will help infra firms, but with a lag effect.
"Recovery in metals is clearly a function of revival of global economy, and/or shutting down of large capacities in China. Both of these are unlikely in the middle term, but MIP (minimum import prices for steel firms) is a way to go," said Bodke.
"The government is making attempts to alleviate stress through the introduction of MIP. That should provide a breather, but the basic stress will continue," added Bodke.
Sectors having ICR below 1 continue to see the share of metal increasing. Metals now account for 36% of debt with ICR less than 1, while metals, and infra and construction together account for around 60% of the debt with ICR less than 1 firms, Credit Suisse said in the report.
The share of metals increased on account of Vedanta Ltd and JSW Steel Ltd entering the list, while the share of infra and construction rose due to the addition of Lanco Infratech Ltd, (re-entering post exit in the previous quarter on a one-time revenue recognized), Aban Offshore Ltd and Gammon Infrastructure Projects Ltd.
Share of utilities and energy declined on account of Adani Power Ltd, KSK Energy Ltd, Adani Enterprises Ltd and Mangalore Refinery and Petrochemicals Ltd moving out of the list.
Tata Communications Ltd, Neyveli Lignite Ltd, Castex Technologies Ltd and Uttam Galva Steels Ltd are some of the other firms that have seen interest cover fall below 1 this December quarter, while Jet Airways (India) Ltd, JBF Industries Ltd, Indian Hotels Ltd and Chennai Petroleum Corp. Ltd have moved out of the list.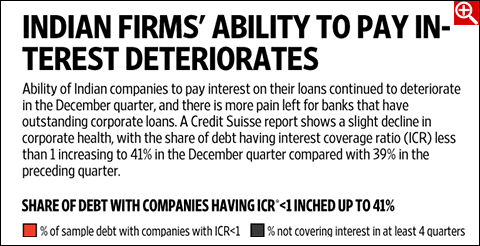 While the government has taken policy measures such as MIP for steel and Ujwal Discom Assurance Yojana for electricity boards, these need to be backed by the right-sizing of debt as significant over-leverage is now visible in stressed firms, Credit Suisse said. "Loan growth continues to remain strong to the power and steel sectors contributing ~60% of Y-o-Y incremental loans to the corporate sector as of Dec-15. With multiple power plants seeing large cost overruns, the debt levels appear unsustainable," Credit Suisse analysts Ashish Gupta, Kush Shah and Prashant Kumar said in the note.
Significant over-leverage is now visible in stressed firms. Power plants which have seen 40-60% cost overrun will need break-even tariff of Rs.4-6 per megawatt (MW), which is well above current merchant tariff and the rate as per their power purchase agreements (PPAs)-would need haircuts.
"...We believe that despite a surge in impairments, corporate asset quality stress for banks is yet to peak and we remain underweight on corporate lenders," they added.
In arrangement with HT Syndication | MINT