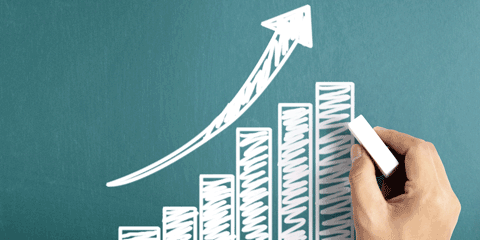 Bajaj Finance Ltd is gaining critical mass in the overall business of Bajaj Finserv Ltd, its holding firm. Naturally, its share price performance is also boosting that of the parent company. Investors pushed Bajaj Finance shares almost 10% up to a lifetime high after it reported a better-than-expected 58% rise in December quarter net profit on Wednesday. Bajaj Finserv shares too rose 3.4%, even before its earnings were announced.
Bajaj Finance, with a focus on financing consumer durables, has done well in recent times, growing assets under management at about 50% annually over the past five fiscal years. At the end of the December quarter, it grew its assets under management 41% from a year ago, despite the economic lull. Bad loans remain under control, amounting to around 1.3% of its loan book. It is also well-capitalized with a capital adequacy ratio of 19.54%.
This performance stands in contrast to that of the life insurance unit, which has been battling regulatory changes. Thus, many analysts give Bajaj Finance almost 50% weightage when they do a sum of parts valuation for Bajaj Finserv. In 2011, it was the life insurance business that was given a weightage of as much as two-thirds. Not without a reason though. Not only has the life insurance company suffered like most of its private sector peers, it has also lost a bit of market share-to 4.9% in fiscal year 2015 from a peak of 10.7% in 2007-08, according to Quantum Securities.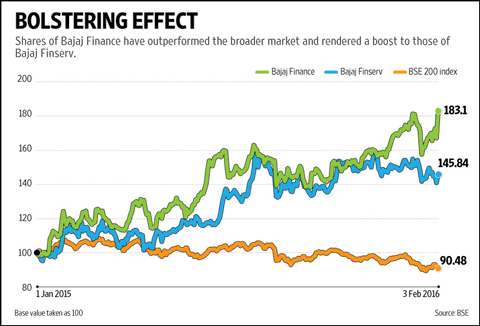 That said, with most of the regulatory googlies in life insurance likely behind it and new distribution structures in place, this business is poised for a turnaround. It can sell more policies too as its solvency ratio of 797% shows. However, it might take a couple of years before revenue picks up significantly, according to Bajaj Finserv chief financial officer S. Sreenivasan. While gross premiums were down year-on-year yet again in the December quarter, the business is profitable. Net profit attributable to shareholders almost doubled.
That's much better than the general insurance business, which showed a profit decline for the second quarter in a row-this time around owing to the Chennai floods. But that didn't prevent the consolidated net profit of Bajaj Finserv from rising 26% from a year ago.
While Bajaj Finance has had a major role in pushing up Bajaj Finserv shares, the insurance firms could have a greater say in Finserv's valuations soon. That's because Allianz SE, Bajaj's partner in both its insurance units, has call options to hike its stake in each firm that will expire later this year. These will be triggers to watch for.
In arrangement with HT Syndication | MINT