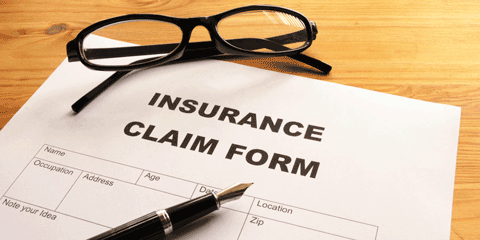 The claims settlement record of insurance companies has improved in financial year (FY) 2015, compared to the previous year, in life an non-life categories. This is according to the latest Insurance Regulatory Authority of India (Irdai) annual report, for 2014-15. Let's take a closer look at the numbers on claim settlement for life insurers and health and motor segments of non-life companies to see what they mean for you.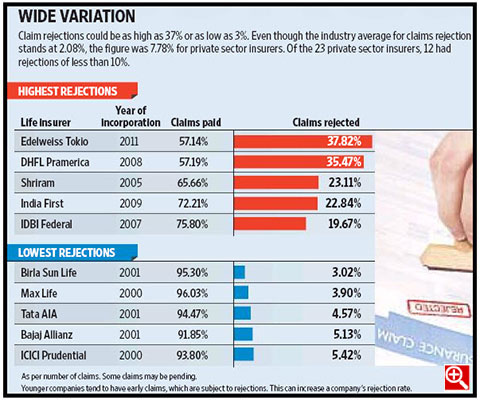 Life insurance
Life Insurance Corp. of India (LIC) had the highest claims settlement record at 98.19% in FY15 in the retail space. The year before it was marginally lower at 98.14%. Claims settlement is defined as the number of claims paid or settled as against number of claims received. This is usually measured in terms of number of policies and benefit amount, and Mint has gone through the number of policies. Private sector as a whole settled 89.40% claims in FY15 compared to 88% in the previous year.
Even as the private sector has shown slight improvement, it continues to reject more claims than LIC does. They received an aggregate of 121,927 claims, of which they rejected 9,486. LIC received a much higher number of claims-755,901-but rejected only 8,689. In fact, the rejection ratio has been higher for private sector life insurers in the past five years. However, the rejection ratio has been 7.6% for private sector companies on an average for the last decade. High rejection percentages, however, can also be to a few companies having high rejections. Many insurers that are new have high rejections due to early claims. "We have had a high rejection rate on account of early claims; the company was launched in FY10. In fact, some of our channels of distribution in the past faced high anti-selection, resulting in high rejections. But if you look at the FY16 figures, in nine months (ending December 2015) we have settled about 76% claims and our rejection has dropped to around 14%. Our total number of claims outstanding are only 32," said Anoop Kumar Pabby, managing director and chief executive officer, DHFL Pramerica Life Insurance Co. Ltd.
Three out of 24 insurers settled lesser than 70% claims, while nine settled more than 90%. Birla Sun Life Insurance Co. Ltd had the least rejections (3.02%) followed by Max Life Insurance Co. Ltd (3.9%). "We have ensured that we underwrite policies with adequate scrutiny so that customers do not face any post-sale barriers, including at the time of claim. We have also developed an automated claims management system," said V. Viswanand, senior director and chief operations officer, Max Life Insurance.
Motor insurance
In motor insurance, insurers are beginning to face lesser heat from claims in the segment. In FY14, the incurred claims ratio (ICR) for the industry for motor insurance was 79.5%; this decreased to 77% in FY15. ICR is the ratio of paid claims to the actual premium collected and is calculated as net claims incurred/net premium earned. A high ratio doesn't bode well for the industry as it means a large part of the premium collected is going into meeting claims.
"ICR has come down because third-party premiums are increasing every year. But thirdparty premiums are still inadequate. Due to this, and increased expense ratio, insurers continue to make losses on the motor portfolio," said Sanjay Datta, chief-underwriting, claims and reinsurance, ICICI Lombard General Insurance Co. Ltd.
Non-life industry as a whole has improved on ICR-it was 81.70% in 2014-15, lower than the 82% in the previous year.
Health insurance
With 55% of health insurance claims settled through thirdparty administrators (TPA; an organisation that processes claims on behalf of the insurer, apart from providing services such as networking with hospitals and arranging for cashless hospitalisation), this was the most efficient channel to settle claims. Also, 65% of the total claims were settled by the cashless mode. The remaining 35% were settled through reimbursements. "As a country, India has varied geographies, needs and economic strata. To bring all the existing hospitals under insurance companies' empanelment is a task that would require time and a lot of effort. We can assume that there will be regions that may not have sufficient empanelled hospitals available for utilisation," said Mick Miller, senior vice-president and head, claims, SBI General Insurance Co. Ltd. For many hospitals, empanelment may not be possible. "Claims from non-network hospitals are of small amounts and such hospitals often do not even meet the minimum criteria for empanelment," said Shreeraj Deshpande, head, health insurance, Future Generali India Insurance Co. Ltd. So, reimbursements continue to form a considerable chunk of claims.
Cashless settlements are higher only for in-house settlements (82%), where the insurance company settles the claim amount and not the . In case of TPA plus in-house settlement, 52% claims came through the cashless route. "As per the new Irdai guidelines, TPAs do not approve or reject claims on their own; they need to take an approval from the insurer. This results in increased processing time for companies that settle claims through TPA networks," said Miller.
This may also be the reason behind reimbursements still happening. "In some cases, due to this time lag (when TPAs handle claims), at times cashless gets converted into reimbursement," said M. Ravichandran, president-insurance, Tata AIG General Insurance Co. Ltd.
Moreover, in-house settlements may be more efficient. "Efficiency is much higher in in-house settlement of claims- cashless or reimbursement. Dealing directly with the insurer and its direct control over the service level and settlement gives customers a much higher comfort level," said Deshpande.
When choosing an insurer to buy a policy from, select after checking the claim settlement record rather than whether the company settles claims in-house or through TPAs.
The ICR has fallen for the health insurance sector but the sharpest fall has been for those other than stand-alone health insurance companies. Public sector companies continue to suffer from high claims ratio.
The ratio for private sector non-life insurers has fallen from 87.6% in 2013-14to 79.1% in 2014-15. This figure was 109.9% for public sector non-life insurers in 2014-15, up from 106.19% in 2013-14. This means that the latter companies are incurring a loss in business since premiums collected are lower than the claims paid. "Group health business (corporate), which would be about 45% of the total health business, is a matter of concern with increasing loss ratios. Price corrections are necessary in the segment. In a bid to increase market share, some insurers tend to have uneconomical corporate group health pricing, which may eventually lead to them increasing pricing for retail customers," said Deshpande.
However, the ratio for health insurers is expected to reduce.
Claims ratios are an indicator of the type of experience that you may have if make a claim. Whether it's health, motor or life insurance that you plan to buy, read reviews online and ask around for people's experiences. Enquire about their experience with claim settlement process, time taken to settle, and reason for rejection if a claim was denied.
The next time you find an insurer quoting a premium that's much lower than its competitors, look at its claim settlement ratio and other related factors.
In arrangement with HT Syndication | MINT