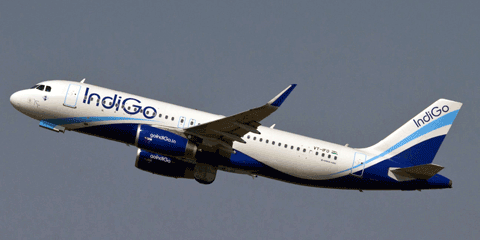 Sometime in 2004, airline investors Rakesh Gangwal, Rahul Bhatia and Bhulo Kansagra sat down to discuss relaunching the defunct airline Modiluft as SpiceJet. Discussions went on and on, and then, stopped abruptly. Gangwal and Bhatia parted ways with Kansagra, who went on to launch SpiceJet. With a market valuation of ₹4,700 crore, SpiceJet is now the fourth biggest airline in India by market share.
The biggest airline, of course, is IndiGo. It was launched by Gangwal and Bhatia in 2006. The company behind the airline listed on BSE late last year. IndiGo's market capitalization is nearly seven times that of SpcieJet at ₹32,500 crore.
In nine years, the airline has gone from 0 to 101 aircraft. Every two seconds, an IndiGo plane takes off. The airline posted a record profit last year and is expected to post $250 million in profit this financial year too.
It hasn't been easy.
"We had to start fresh. We had to start big. We had to think big," says Gangwal, recalling the parting of ways with Kansagra, "It was not about just about making money. Nothing wrong in making money, I am a big believer in making money, but the whole focus that how can we make money in the airline business (didn't seem right)... and at one time, I told Rahul, I don't think I can do it. But I am willing to give you advice free of charge, I don't need equity, I don't need anything."
London-based Kansagra, who calls Gangwal an aviation guru and speaks fondly of his stays at Bhatia's residence during those early days, moved ahead and launch SpiceJet with Ajay Singh.
"Then Rahul and I got together and said let's start our own airline. Rahul and I said the only way it's going to work is if we are going to think long, long term. And we are going to build a massive network. And that is why we placed these orders going 10-15 years. Nobody does that. They thought we would be selling the planes-trading the planes to a leasing company. But Airbus had enough faith in me. It's a big risk they were taking," says Gangwal, who is based in the US.
His reference is to the 2005 order of 100 aircraft from European plane maker Airbus, which brought the company into the limelight.
Since then, IndiGo has placed more orders-420 Airbus planes are lined up for delivery over the coming years.
Gangwal studied at the Indian Institute of Technology, Kanpur, and then finished an MBA at Wharton, before rising to lead several firms, including US Airways Inc., as its chief executive officer. He is credited with ordering hundreds of planes in bulk and betting big at almost all the airlines he worked for. True to his reputation, he started with a 100-aircraft order for IndiGo, a first for an Indian airline, in 2005.
With Bhatia's understanding of Indian rules and regulations and Gangwal's penchant for betting big, IndiGo is now bigger than even Naresh Goyal's Jet Airways, the dominant player in Indian skies since the late 1990s.
Jet's share has come down from 46% at the end of 2004 to 22.5%. To be sure, Jet has spent most of the past decade battling internal demons, and expanding internationally.
Still, unlike Jet, which didn't face too much competition, IndiGo had to battle it out.
"This guy (IndiGo) has succeeded in a hyper-competitive environment," said Kapil Kaul, South Asia CEO of consulting firm CAPA Centre for Aviation.
IndiGo has created a niche for itself-by obsessively focusing on being on time (although its first flight, one to Guwahati, was 40 minutes late) and low costs, and has become the preferred airline of many travellers, capturing a little more than one-third of the domestic market.
In arrangement with HT Syndication | MINT