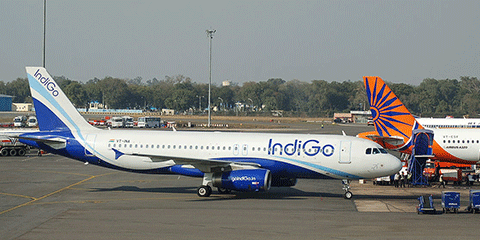 On 21 January, InterGlobe Aviation Ltd, the owner of India's largest and most profitable airline, IndiGo, reported a 24% increase in third-quarter net profit to ₹657.28 crore from ₹531.56 crore a year-earlier, beating analyst estimates.
Yet, the company's shares tanked 19.1% to close at ₹968.75 apiece the following day. On Monday, the losing streak continued with a 6.79% decline to ₹903. The stock recovered a part of the losses on Wednesday, gaining 3.3% to ₹932.75. Tuesday was a market holiday.
IndiGo, which raised more than ₹3,000 crore last year in an initial public offering (IPO) at ₹765 per share, has total debt of only ₹3,930.20 crore, all of which is aircraft-related. And as of 31 December, the airline had total cash of ₹5,746.30 crore, comprising ₹2,097.40 crore of free cash and restricted cash of ₹3,648.90 crore.
So, why did investors hammer the shares of the country's most profitable airline company after it reported what seemed to be solid financials?
According to analysts, three broad reasons were behind the stock's decline.
Expectations vs performance
In its first earnings announcement since its stock-market listing in December, IndiGo also reported its numbers for the quarter ended September. Earnings for the quarter and for the nine months to December disappointed investors.
"However, IndiGo's nine-month performance of (the) current financial year was much below estimates due to a sharp fall in profitability in 2QFY16, where profit after tax (PAT) declined to ₹110 crore, from ₹640 crore in 1QFY16. As per the management, lower passenger volumes in the 2QFY16 period (usually a lean quarter) forced the company to cut ticket prices (yield was down 9% quarter-on-quarter) in 2QFY16, which dented profitability," wrote Kotak Institutional Equities Research, a unit of Kotak Securities Ltd, in a note on 22 January.
An aviation consultant, requesting anonymity, said that IndiGo's second-quarter revenue and yields were below average even when compared with smaller rivals.
Domestic securities house Motilal Oswal Securities Ltd said that IndiGo's nine-month earnings for the current fiscal year were significantly below estimates. What's more, it cut IndiGo's earnings forecast for FY16 by 25% to factor in actual nine-months results.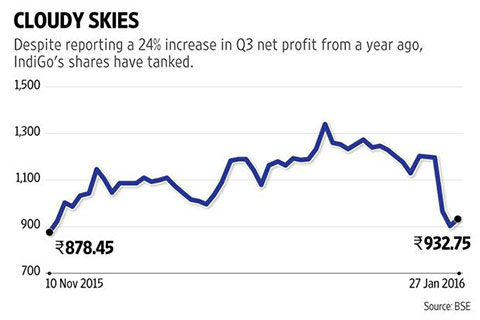 Capacity vs constraints
IndiGo was supposed to start taking delivery of fuel-efficient Airbus A320neos by the end of 2015. This was expected to be a game-changing moment for the airline. But IndiGo said that the delivery of the first A320neo has been delayed and there could be additional delays, citing "industrial reasons" at European plane maker Airbus SAS.
As the launch customer of the A320neo, IndiGo was waiting eagerly to take delivery of the planes that will help it cut fuel costs by 10-15%.
"At this point, the company does not have a clear visibility of its future A320neo delivery schedule and the potential of additional delays exist. The company is looking at mitigating the potential shortfall in capacity through other options," the airline said in a note to investors.
IndiGo CEO Aditya Ghosh said in an earnings call that the airline was in talks with Airbus and engine maker Pratt & Whitney for early delivery of the new aircraft.
IndiGo had ordered 100 Airbus A320 aircraft in June 2005, 180 A320neo aircraft in June 2011 and 250 A320neo aircraft in August 2015. Each of these was the largest single aircraft order by number from Airbus at the time the order was placed, according to the plane maker.
The delay in the delivery of these aircraft has been a drag. Motilal Oswal cut its earnings forecast for IndiGo for 2016-17 and 2017-18 by 18% to factor in delays in the A320neo deliveries and higher employee costs.
"...the delay in deliveries of A320neos also impacted profitability in the 9MFY16 period, as it had invested in staff and other overheads in anticipation of higher capacity, which did not materialize. Lastly, the delay in the delivery of the new aircraft (which impacted deferred incentives), and depreciation in ₹/$, led to aircraft rental costs increasing by 36% year-on-year in 9MFY16, higher than our estimates," Kotak Securities said.
Citi Research also pointed out that the management noted that the prospectus guidance for a fleet of 111 aircraft as of next 31 March will be difficult to achieve (versus 101 today), but IndiGo would take delivery of five used aircraft in the near term to help bridge the capacity shortfall.
Competition vs competence
IndiGo, which has 101 aircraft with an average age of 4.2 years, including used aircraft, does not have any working capital debt.
The airline has stuck to its basic business model despite temptations to add frills like its rivals did. IndiGo has been the only consistently profitable airline in India since FY2009.
"But that is no more the case. IndiGo is not having industry-leading performance. Others are catching up rapidly," the consultant cited above said.
From 1 January 2015 to date, shares of Jet Airways (India) Ltd, the country's second largest airline by passengers carried, have risen 63.03%, while shares of SpiceJet, India's second largest low-fare airline, are up 358.14%.
Shares of IndiGo have risen 18.04% from their listing price.
In its filing to stock exchanges, IndiGo said it had been in discussions with Airbus about the delay and revised the delivery schedule of the A320neo aircraft.
"We have nothing further to report at this stage under our obligations under listing regulations," IndiGo said, clarifying news reports on 25 January on the airline seeking compensation from the plane maker.
In arrangement with HT Syndication | MINT